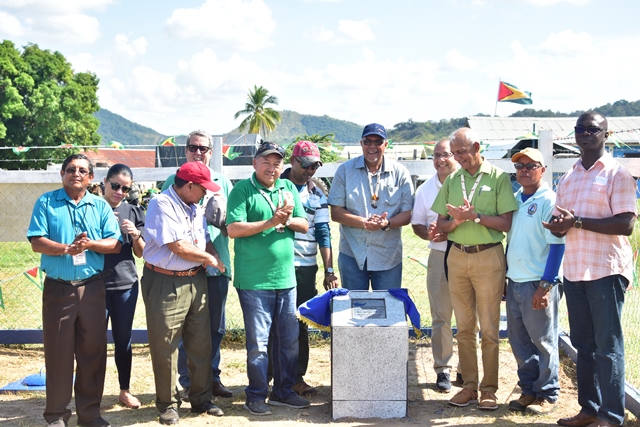 For the first time in its history, the village of Sand Creek, Region Nine -Upper Takatu-Upper Essequibo – is now able to enjoy potable water with the commissioning of a spanking new well in the village on Saturday.
The 272 feet facility, will supply quality water to more than 1000 residents, who, for the first time will also be able to access it in their homes.
Minister of Communities Hon Ronald Bulkan, Minister of Indigenous Peoples' Affairs, Hon Sydney Allicock joined villagers and the Guyana Water Incorporated (GWI) in celebration on Saturday.
Delivering feature remarks, Minister of Indigenous Peoples' Affairs Hon Sydney Allicock told residents to make the best of the numerous opportunities afforded them through the provision of the water supply.
"Now is the time to have your gardens so that you can feed yourself. Take full advantage of the opportunities,"
He related that the Ministry of Indigenous Peoples Affairs has been working to develop the Village Improvement Plan, which will allow communities to plan, and engage with residents for the development of the village.
Minister of Communities Ronald Bulkan said the commissioning of the project is a historic occasion that needs to be celebrated. He said the realignment of an equitable life for all, started immediately after the coalition government took office.
"Part of this plan to ensure there is more equality between conditions on the coastland and the hinterland has resulted in transformational upgrades, not only in water, but other areas of infrastructure, including roads, rehabilitation of airstrips and the provision of internet services to rural, remote and hinterland communities," Minister Bulkan told residents.
The Communities Minister stressed that the developments are just the beginning of bigger and better things to come.
Funded by the Government of Guyana and the GWI, the project saw villagers actively involved in the process.
GWI's Managing Director Dr. Richard Van West Charles said the company took counsel from President David Granger about the good life for all citizens. Last December, the entity established the Department of Hinterland Affairs.
He related that well, dug by Brazilians is also the first of its kind in the hinterland.
"It is in this community that we first use new technology which permitted the company to know the depth to which it must drill to find good water. The well can provide water to at least four times the village. It's not simply about access, but about quality of water."
Region Nine Chairman Brian Allicock said he is happy with the development in the region under the coalition.
"Since I have been at the helm of this region, 26 wells have been established so far within the region and I am happy."