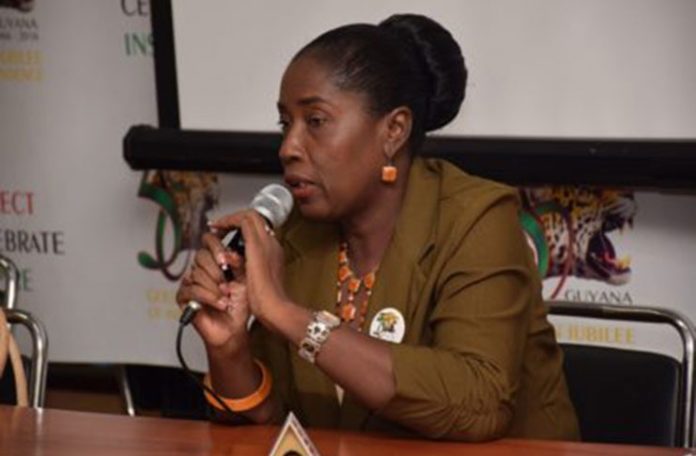 CLOSE to 2, 000 houselots will be made available in 2017, Minister within the Ministry of Communities with responsibility for Housing, Valerie Adams-Patterson has disclosed.
Speaking during a recent press conference at her Brickdam Office, Minister Adams-Patterson explained that 21 areas will be regularised in 2017, paving the way for a total of 1,852 lots to be made available for regularised housing.
The Housing Minister said as of now, there is no residential lot available in Region Four and just a few in Region Three, primarily residential-commercial lands ranging from $1.2M to $1.5M.
"There is nothing low-income, moderate-income or middle-income," Minister Adams-Patterson told reporters present.
She said it is for that reason that the Government through the Central Housing and Planning Authority (CH&PA) from this year will be utilising the available space remaining for the construction of duplexes, town houses and condominiums to accommodate the increasing number of applicants.
"We cannot continue to give one houselot per person," she posited, noting that if such trend continues, the Government may never be able to accommodate the more than 25, 000 applicants.
The Housing Minister said that by April, CH&PA will commence the construction of the first set of duplexes and town houses at a cost of $1.6B, noting that a number of persons and companies have already submitted expressions of interest. These will be reviewed shortly before a decision is made.
The overall project allows for the construction of approximately 3,300 apartment units in three locations, as well as 1000 duplexes in 12 areas spread across five coastal regions.
Some of the areas at reference include the communities of Little and Great Diamond on the East Bank of Demerara; East La Penitence in central Georgetown; and Cummings Lodge on the East Coast of Demerara.
This year, the CH&PA has set aside $2.5B for the consolidation of existing housing schemes, and the upgrading of roads, drains and structures in low-income, regularised squatting areas and other planned housing areas, in Regions One, Three, Four, Five, Six Seven and 10.
Additionally, the CH&PA has budgeted some $120M for the installation, construction, and upgrading of social facilities in planned housing areas.
Source: http://guyanachronicle.com