Local Gov't Ministry hands over solar gear for Shea Village ICT hub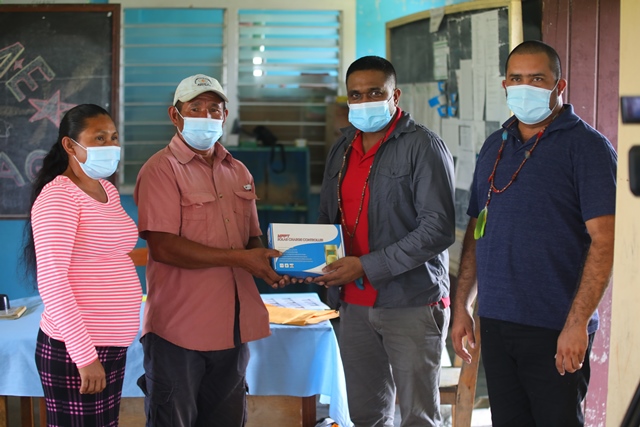 -78 students to benefit   
Students of Shea Primary School are set to enjoy additional hours of internet access as Government donates critical equipment for the village's ICT hub.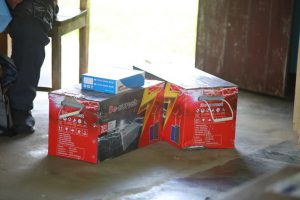 Minister of Local Government and Regional Development, Hon. Nigel Dharamlall on Monday donated two 12V/200AH batteries and a solar charge controller to teachers of the school during a community engagement in the village.
Teacher Vilma Caitan, told DPI the equipment will significantly improve the WiFi connectivity since students received only two hours of WiFi use before the connection is lost.
"There are a lot of children who need to be doing research. Not only the students, teachers as well," Ms. Caitan explained.
Grade Four Teacher, Ms. Serena Permanbuco also welcomed the donation. She said, "some of the parents have smartphones and they will be able to do some research based on the work for their children."
Ms. Permanbuco, who is currently pursuing training through the Cyril Potter College for Education, said she intends to capitalise on the additional hours of internet access to complete her assignments in a timely manner.
Further, Toshao Mr. Ivor McBurney lauded the donation as a boost for communication between residents in the village and surrounding communities. The Toshao also pledged that the village would use the equipment with care.
Meanwhile, Regional Executive Officer for Region Nine, Mr. Carl Singh said the Regional Democratic Council (RDC) intends to donate a recently bought a laptop to the school to further enhance education delivery.
The printer bought by teachers to print additional learning material will also be supplied with ink from the RDC upon Ms. Caitan's request.
During Minister Dharamlall's community engagement a commitment was made to rehabilitate the Shea Primary School and to supply the village's health centre with an additional bed.
After visiting Shea Village, the Minister led similar community consultations in Muraranau, Awaruwaunau and Achiwuib villages, which follows a series of similar engagements in the region at the weekend.