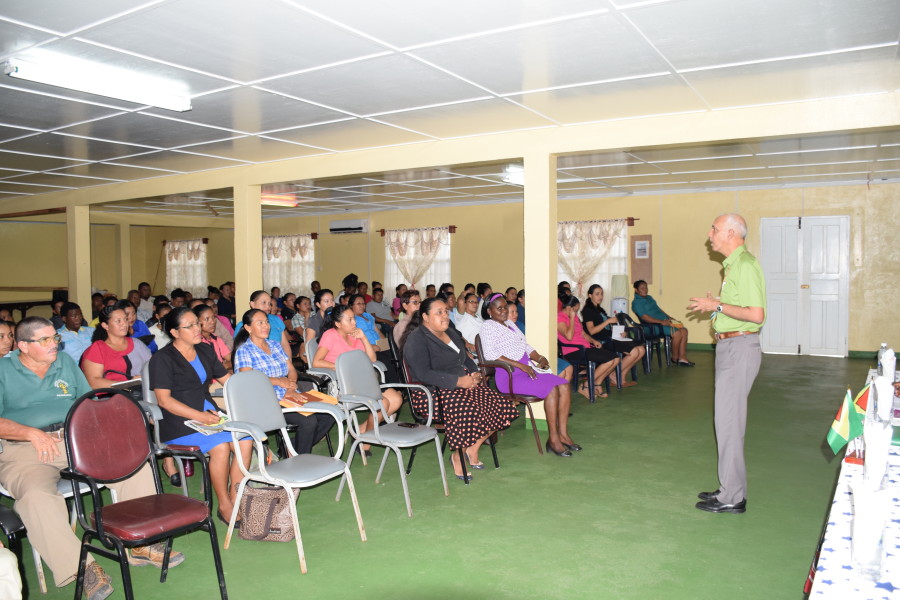 February 24, 2017-Lethem: Region Nine- Minister of Communities, Ronald Bulkan on Wednesday said that the Upper Takutu/Upper Essequibo region has the potential to develop into a pioneer of commercial dominance with a robust, resilient economy.
Minister Bulkan, who was on a two-day visit, was at the time addressing officials and employees of the Regional Democratic Council (RDC) in the Upper Takutu/Upper Essequibo region (Region Nine).
While there, Minister Bulkan held a series of engagements with residents, regional officials and municipal representatives.
Underscoring the significance of the over 57,000 square kilometers, the Minister reminded the administration of its crucial responsibility to carefully manage the affairs of the region for the overall benefit of the people.
"Our formula is not to control the regions. There was a time when critical decisions relating to the management of regions were relegated to the coastland. But this administration has a different attitude and is pursuing a policy in accordance with the provisions contained in the constitution," Minister Bulkan remarked.
In relation to the role of the regions, the Communities Minister noted that it was never intended to be administrative but one more aligned with management and development.
Minister Bulkan said that to refer to a region as administrative gives the impressions that the RDC is an appendage of central government which is not the case.
He pointed the councilors to Chapter Seven of the Constitution (Article 71) (B) which speaks specifically to local democracy and Article 12 which states that, "Local Government; by freely elected representatives of the people is an integral part in the democratic organization of the State."
There is no ambiguity," he said adding that, "the council is an independent organ created by the constitution with a specific role and function. It is not window dressing. I assure you that central government has no desire to control or suffocate you but is committed to help bring about development, improved standards of living and the quality of life of all people," Minister Bulkan said.
He reminded the council of their obligations as servants of the taxpayers and urged them to conduct themselves with the highest moral regard to principles of fairness and impartiality.
The council was also reminded to treat the public with courtesy and respect noting that each engagement with residents must be respectful and above board.
The Minister lamented the fact that many officials in high office would abuse their authority warning against any motivation that is driven by self-interest and a desire for financial gain.
"Whether it is education, healthcare or infrastructure, development will not happen in a vacuum. It requires us to work and work smartly in order to bring about that development."