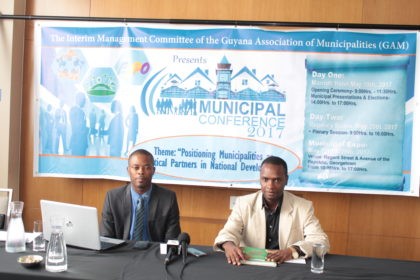 Mayors from the nine municipalities across the country will be hosting a Municipal Conference, aimed at creating opportunities for networking and providing a forum for discourse on key issues affecting the development of Municipalities.
The conference is scheduled for May 19 and 20, 2017 and will be held under the theme "Positioning Municipalities as Critical Partners in National Development." The conference has been months in the planning and Holland said that the Mayors are united in their commitment to execute the event, with the aim of addressing the issues affecting the municipalities' development.
This weekend the municipalities across Guyana will be exhibiting unity. "We have worked hard over the past couple of months meeting, together as mayors from various towns and deliberating and discussing and planning the way forward for municipal development. It is with that oneness we bring to you the municipal conference 2017, bringing municipalities, and working together as we foster and push forward with one cohesive mindset," Holland said.
The conference will incorporate an opening ceremony, leadership presentation and elections for the resuscitation of the Guyana Association of Municipalities (GAM) at the Marriott Hotel on Day One.
Holland explained that each Mayor is expected to present on strategic and important challenges hindering development in the nine towns.  The topics expected to be covered include: promoting a green economy
Holland was at the time addressing the media at the pre-event briefing at the Marriott. He was joined by Mayor of Bartica, Gifford Marshall.
Mayor Gilford said that, the municipality of Bartica is very grateful for the opportunity to be part of the conference. "As you are aware we are just one year old, and we need help to build our capacity to be able to deliver, and we are looking forward to better networking with our municipalities," Marshall said.
"The evidence show that our challenges are the same and the only way we can overcome the challenges is to come together and to work together to offset these challenges …networking and capacity would be key, this weekend … this is the time and place for us to sit down together and work out our challenges and see how best we can move forward," he further added.
Marshall explained that those elected to be part of the executive committee of GAM would be mandated to take those recommendations forward and to ensure that, "the conference is not just a talk shop, but we have changes at the municipal level."