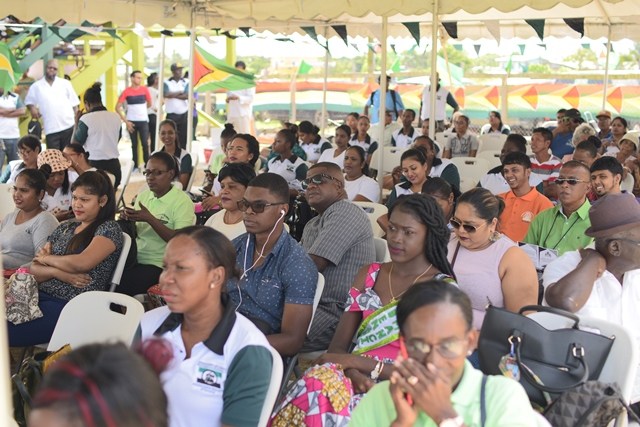 Minister of Communities, Ronald Bulkan has stated that the government is committed to stimulating and reviving the village economy.
The minister was at the time delivering the feature address at the Essequibo Islands-West Demerara's National Day of Villages 2018. The event was hosted today at Hydronie Playpark, East Bank Essequibo and was attended by Minister Bulkan and Legal Adviser to the Minister of State, Geeta Chandan-Edmond, members of the Regional Administration, students and residents of Region Three.
National Day of Villages is in keeping with the government's policy of building a cohesive country and was hosted under the theme "Working in Harmony, Building Better Relationships for a Brighter Future".
In his feature address, Minister Bulkan told the gathering that the event provides an opportunity for recommitment to development at the community level and ultimately the national level.
"This administration has embraced a different approach to governance and to development."
Minister Bulkan explained that the government believes in "people's empowerment and development from the bottom up, at the level of our villages". He added that the developmental rate of Guyana is dependent on the rate at which the municipalities and Neighbourhood Democratic Councils (NDCs) progress.
Delivering remarks on behalf of the Minister of State, Joseph Harmon, Geeta Chandan-Edmond told residents that it is important to utilise every opportunity to foster social cohesion. She reaffirmed the administration's commitment to supporting events of this nature.
Chandan-Edmond quoted President David Granger stating "diversity is an asset, it does not necessarily translate into inclusivity."
She further stated that better relations should be fostered at the community level.
"We want better relations among our villages among our races and ethnic communities we want great trust in cooperation we want in other words social cohesion in all parts of our society."
Patrons were treated to cultural performances which showcased the talents of the region's youths. 
Anara Khan.
Images: Jameel Mohamed.