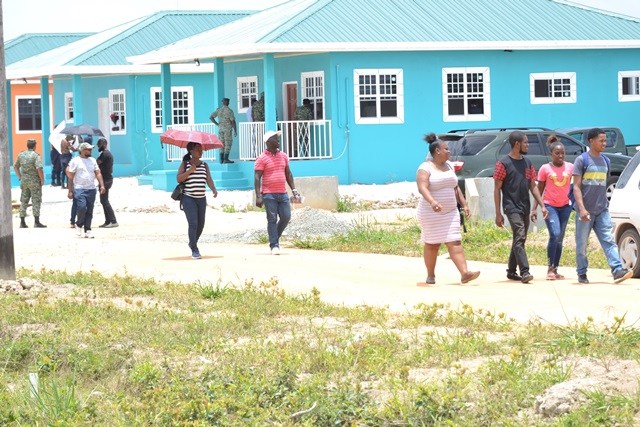 – application process fair and transparent
─ govt has pumped over $5Billion in consolidating infrastructure on housing schemes inherited from the previous administration 
Minister of Communities, Ronald Bulkan has disclosed that some 4,000 house lots should be available within the next eighteen months under a transparent and fair process.
He made this disclosure on Tuesday during an exclusive interview with the Department of Public Information (DPI) while at the 'Government comes to you' outreach in Berbice.
The cost to develop a house lot is approximately $3M. With this in mind, he said the government is making it affordable for its citizens and has pumped over $5B in consolidating infrastructure on housing schemes inherited from the previous administration. Correcting errors made in the past has somewhat sidelined the government from aggressively developing new housing schemes.
"This is an issue that is now being addressed by the administration to see in 2019, how many more new house lots we can make available, and our target at this stage is to, within the next 18 months, have possibly in the vicinity of 4,000 new house lots," Minister Bulkan stated.
He highlighted that that there is a huge backlog in the system inherited from the previous administration. Nevertheless, he said there is now a transparent process which is allowing more applicants to own their own homes.
"One of the things that we have tried to ensure exists is greater transparency in the process where as far as possible, there is a first come, first served basis and allegations and acquisitions of favouritism or improper adherence to the procedure, that those are minimised. So, we are trying to ensure that the system is more robust to ensure greater equity."
Additionally, the government has held several housing expos, providing affordable housing for all. The Central Housing and Planning Authority (CH&PA) has teamed up with some private developers including the Guyana Defence Force (GDF) and the Guyana Prison Service (GPS) to build 50 homes for low-income applicants at Prospect New Housing Scheme on the East Bank of Demerara (EBD).
The houses, measuring 400 square feet each, include the necessary amenities and a small patio which stands on a plot of land measuring 40 feet x 80 feet. The prices range from $4M up to $9M.
Isaiah Braithwaite.
Image: Jules Gibson. | DPI