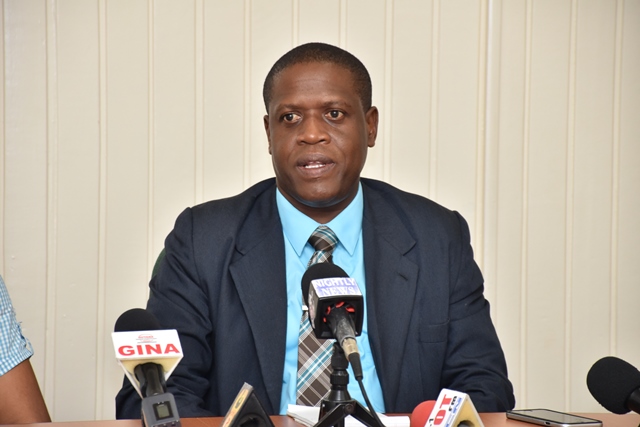 The Central Housing and Planning Authority (CH&PA) is looking at Industry on the East Coast Demerara (ECD), to develop as a possible relocation site for Georgetown squatters. This will cater for squatters occupying zero-tolerance (high risk) areas, Chief Executive Officer (CEO,) Lelon Saul said at the CH&PA's mid-year press conference, today.
Saul explained that the CH&PA's relocation effort is currently focused on East/West Front Road and other critical areas around Georgetown. "Our plan is to develop an area in Industry and we hope to use that area to relocate persons who are squatting along the East/West Front Road, Tucville embankment, the Lamaha Canal, Sophia and other areas in Georgetown," Saul said.
He explained that the identification and development of the squatter relocation site will form part of a detailed action plan that the CH&PA is crafting to holistically address squatters relocation in Guyana. "We cannot allow this situation to continue and therefore in the medium to long term, we would initiate a plan to remove those persons," Saul explained.
Director of CH&PA's Community Development Department, Gladwin Charles explained that the plan is being prepared by a consultant.  He said that the plan takes on board the need for a strengthened stakeholder partnership. "We realise it is a very big task and the CH&PA alone cannot do it, and in that action plan there are some ideas in terms of working with the different agencies and ensuring an interagency approach," Charles added.
From the data collected, CH&PA is looking at the relocation of close to 12,000 persons. This figure does not account for those persons that continue to rebuild on areas previously cleared of squatters, Charles said. He noted that "Up to last week some residents came from Sophia. They complained that more residents are building structures, and one of the things we have found because we have announced it already that we are looking at a relocation plan, some person what they are doing, is that they are saying we know that the ministry is going to do this, so we are going to build a structure so we will qualify when the time comes," he said.
Charles is advising persons currently engaged in these acts to desist from this line of action. He is advising them to get registered with the authority. "Even if you have never applied (for a house lot,) it does not mean that you have to go on the reserve to qualify. You come in, register and we will work along with you," he said.
Whilst CH&PA has been working to relocate persons living in zero tolerance areas, (on government reserves) the authority has also been working with residents to regularise those settlements that are conducive to livability. This year, the authority has targeted, in terms of regularising, the allocation of 400 house lots. Charles said that to date, the authority has allocated 198 of these lots.
In terms of processing of the titles for these lands, CH&PA has targeted completing 350 for 2017. Thus far 52 percent or 185 have been processed, Charles said.
In terms of regularising CH&PA has been working in various communities, including in Angoy's Avenue (Cow Dam) which is the largest squatter settlement in Region Six, and has approximately 1010 lots.
CH&PA started working in the Angoy's Avenue in April. Charles said that the CH&PA, which is currently in the process of verifying the lots and owners, is hoping to give the residents their house lots, before the end of the year.
Thus far, CH&PA have made 510 allocation offers, to persons whom the authority has verified are the occupiers of the lots. "We have given them offers and persons have started to make payments, at the Regional Office in Region Six," Charles said.
Another area that CH&PA is currently working in, in terms of regularising, is the Middle Road, East La Penitence area in Region Four. "We are working with lands and survey to regularise the area, to date we have completed a block and occupation survey, and we are doing a design of the product, and from that design we will determine the lot sizes, and then also the persons who would have to be relocated. We would deal with those persons individually, and look at them and look at areas for them to be relocated," Charles said.
By: Macalia Santos | GINA