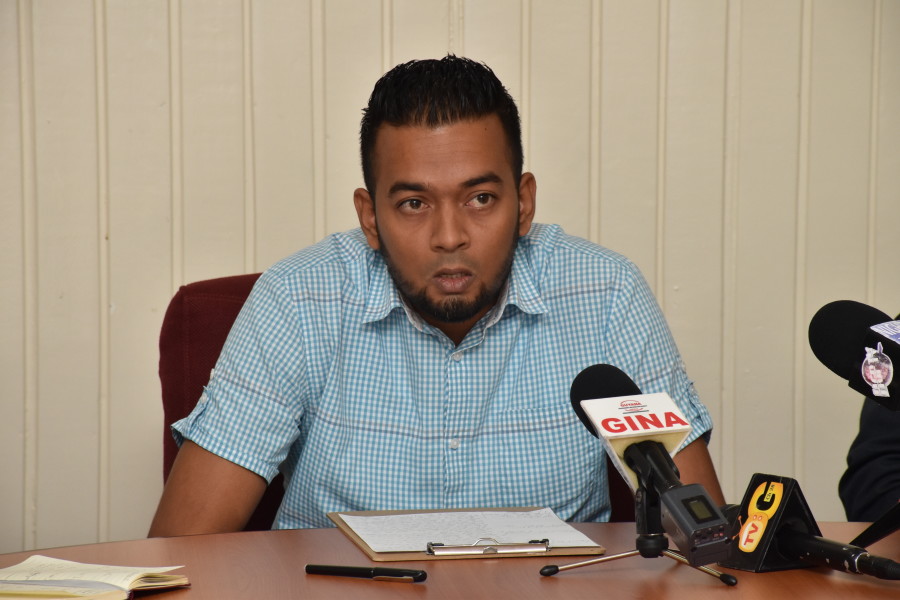 DPI/GINA, GUYANA, Monday, June 12, 2017
The Central Housing and Planning Authority (CH&PA) is working to accelerate the completion of infrastructural development in its existing housing schemes.
For 2017, the authority had set aside $2.5 Billion for the interventions inclusive of the upgrading of roads, drains and structures in low income, regularised squatting areas and other planned housing areas.
Director of Project (acting) of CH&PA, Omar Narine speaking at the authority's mid-year press conference today reported that thus far, for 2017, the CH&PA has successfully signed five contracts.
These include two road contracts to be undertaken; works at the Perseverance, East Bank Demerara, site, where CH&PA, just recently completed its Housing Solution 2017 and Beyond Exposition. There are also another two contracts signed for Perseverance, but towards advancing an area, where the authority would be developing 178 new lots, Narine said. He explained that the fifth contract is for works to be undertaken in the Number 76 Village, Corentyne, Berbice.
In addition, the authority is currently at the evaluation stage for further roads upgrade for its' low income schemes, in Tuschen, Section E Non-Pariel, Block D Bath, Ordnance/Fortlands and Amelia's Ward, he said. These evaluation reports are currently being completed by a team provided to the Authority by the Ministry of Finance, Narine explained. These evaluation reports are expected to be presented to the National Procurement and Tender Administration Board (NPTAB) by the end of June, he said.
CH&PA's focus on completing the development of its existing housing schemes also included putting in electrical infrastructure. This year the authority set aside $471.3 Million to meet the electricity requirement of 16 existing schemes in Regions 2, 3, 4, 5, 6, 7.
Narine said that towards this end, to date CH&PA have successfully signed 6 contracts for the procurement of line hardware materials.  He said too that authority has also submitted the evaluation report for the procurement of poles to NPTAB. This is slated to go to Cabinet next meeting for its no-objection. This will enable the CH&PA to sign the contracts, before the end of June for the contractors to begin installation of the electrical infrastructure.
Meanwhile, CH&PA started 2017 with over G$2.3B in 2016 roll-over projects (ongoing infrastructure works) for Regions 3, 4, 5 and 6. Narine said that to date the authority has completed all these projects; including the completion of the re-migrant roads. He said too that the authority has retendered all the works for the contracts which were terminated between the 2015 and 2016, for areas such as Lust-en-rust, Zeeburg, Farm and Coven Garden. Narine said the procurement process has been completed and the authority is currently at evaluation stage, and is slated to go to NPTAB for the awarding of the contracts before the end of June.
CH&PA has developed 380 housing areas, inclusive of the regularisation of squatting areas. However, occupancy level is only 55 per cent since 28,220 lots divested to households are still unoccupied. This situation was further exacerbated during the 2011-2015 period where 38 housing areas were developed yielding 20,015 lots of which 16,273 lots are unoccupied. Inadequate or non-existent infrastructure has been identified as one of the critical factors influencing the low-occupancy of these housing schemes.
Since coming into office, government has worked to overcome this challenge. Moves have been made towards prioritising the completion of the schemes (putting in the necessary infrastructure) as house lot allottees indicate their readiness to begin construction.
This intervention however is being implemented in phases as monies to undertake the development remain an issue. According to figures provided by Minister within the Ministry of Communities, with responsibility for Housing Valerie Adams- Patterson, it took 4260 acres to yield the 20000 plus lots at a cost of $12.78Billon and it will  requires a further G$16.6B to complete these areas.
By: Macalia Santos