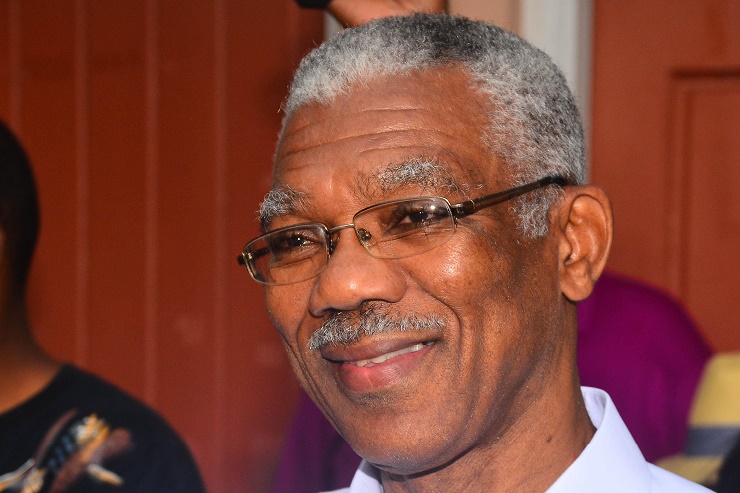 Address by His Excellency Brigadier David Granger, President of the Cooperative Republic of Guyana to the Annual General Meeting of Georgetown Chamber of Commerce and Industry, Georgetown, 2016.03.24.
Guyana's local government elections held on 18th March 2016 represented more than mere respect for constitutionality. They were a reaffirmation of our political democracy and an opportunity for economic change. The elections restored the right of citizens to participate in decision-making in their municipalities and neighbourhood councils. They also renewed economic opportunities for innovation, investment and infrastructure development.
The elections for our neighbourhood democratic councils and municipalities paved the way for a change in the way our towns and communities are governed. They also paved the way for a reappraisal of the contribution they can make towards creating economically powerful regions.
Democratisation has been accompanied by the first major extension in municipal administration in over four decades. The Official Gazette (Extraordinary) published on 21st October 2015 authorised the establishment of three new towns – Bartica, in the Cuyuni-Mazaruni Region; Lethem, in the Rupununi (Upper Takutu-Upper Essequibo) Region and Mabaruma, in the Barima-Waini Region. Mahdia, in the P.otaro-Siparuni Region is a village which will become a town later.
The three new municipalities join the existing six towns – Georgetown, the national capital; New Amsterdam, Corriverton and Rose Hall in the East Berbice-Corentyne Region; Anna Regina in the Pomeroon-Supenaam Region and Linden in the Upper Demerara-Berbice Region.
Georgetown was founded in 1781 and observed its bi-centenary in 1981. New Amsterdam's date of foundation is taken to be 1791 and its bi-centenary was observed in 1991.  The Georgetown Town Council was established in 1837 and New Amsterdam became a town by virtue of an Ordinance in 1891. Linden, Rose Hall, Corriverton and Anna Regina were established by an Order under the Municipal and District Councils Act. These towns, however, are still to develop their full potential. This is their moment in history.
Compound mentality
Colonial British Guiana was divided into three counties derived from the former three Dutch colonies – Berbice, Demerara and Essequibo – which were unified into a single colony in 1831. Counties were divided into nine districts, the boundaries of which are not dissimilar to the present-day ten regions.
Each district was placed under the direct control of a 'district commissioner' whose principal duties were administrative rather than developmental in nature. His task was: "to coordinate the activities of the various government departments in his district and to provide advice and assistance to the village communities …"
The centre of the colonial district was the government 'compound' which was like a zone of rural tranquility. The district 'compound' epitomized the local government system. It was physically segregated from the rest of the community.
The 'compound' contained a number of buildings – typically, the magistrate's court, police station, post and telegraph office, public works department, district commissioner's office and, where needed, the Lands and Mines and Forestry Departments and the Government Guest House.
The maintenance of these premises, the services they provided and the salaries of the officers that superintended these services were funded by the central government.
This model of an anaemic and archaic 'district' administration has persisted almost unaltered beyond the colonial era for fifty years into the Independence era. Local government authorities, in many places, are still infused with this 'compound mentality' which emphasises control rather than consultation and collaboration with the residents of the district.
The absence of local government elections for nineteen years perpetuated the largely dysfunctional and degenerate model of the 'colonial compound.' The historic local government elections of 18th March 2016, however, changed the system forever. Elections ushered in new towns at Bartica, Lethem and Mabaruma. Mahdia will soon follow. They are intended to wean local authorities off of central government dictation, domination and dependency. They will allow for a more collaborative and forward-looking model of governance.
Capital mentality
The new model will eradicate the "colonial compound" mentality. It will instil a 'capital town' mindset which emphasizes the role of towns in moving beyond providing traditional municipal services. The new emphasis should be on promoting business, driving economic development and giving leadership to our regions.
Guyana will develop only if regions are strong. Our regions must no longer be viewed as mere administrative appendages of the central government. Our regions must become motors of economic growth. The potential of our regions is indisputable.
The geographical sizes of our regions signify their potential. The Barima-Waini Region is larger than Kuwait; Pomeroon-Supenaam is larger than Trinidad and Tobago; Essequibo Islands-West Demerara is larger than Mauritius; Demerara-Mahaica is larger than Singapore; Mahaica-Berbice is larger than Cape Verde; East Corentyne- Berbice is larger than Belgium; Cuyuni-Mazaruni is larger than the Netherlands; Potaro-Siparuni is larger than Fiji; the Rupununi (Upper Takutu- Upper Essequibo) is larger than Costa Rica and Upper Demerara-Berbice is larger than The Bahamas.
Guyana's regions are rich. None is desert. None is tundra. None is swamp. Every region is blessed with natural and human resources which can be exploited for the benefit of its people. Local government elections therefore laid the foundation for a new partnership between central government and local government with the aim of building stronger regions.
A 'capital town' will be established in every region. Bartica will be the 'capital town' of Cuyuni-Mazaruni. Lethem will be the 'capital town' of the Rupununi. Mabaruma will be the 'capital town' of Barima-Waini. Mahdia will become the 'capital town' of Potaro-Siparuni. More suitable sites will be identified to transform the compounds into 'capital towns' in the coastal Demerara-Mahaica, Essequibo Islands-West Demerara and Mahaica-Berbice regions. 'Capital towns' will spearhead the development of the regions.
Commercial mentality
Guyana's new economic geography will emphasise the centrality of 'capital towns' in fostering economies of scale which are essential to economic growth. Benefits of 'capital towns' in rural and hinterland regions will become evident through the generation of rural, non-farm employment, consumption linkages and urban-rural remittances.
Poorer folk, who always seem to predominate in the rural and hinterland regions, may find employment easier in nearby 'capital towns' than they would when those opportunities are located further away in our country's few towns and single city. 'Capital towns' have an important role to play in developing the economies of our regions by encouraging the growth through four factors:
Infrastructure: Public infrastructure will reduce transportation costs, provide access to markets, increase the competitiveness of production and stimulate increased output.
Investment: Inflows will spur new industries and aid in overcoming competitive disadvantages and diseconomies of scale and by fostering job-creation, particularly non-agricultural jobs such as banking and engineering.
Innovation: 'Capital towns' can compensate for their lack of size with big ideas, bold innovations and business dynamism. Innovative technologies wouldstimulate agro-processing and manufacturing. Towns should promote new businesses, establish industrial sites and establish industrial centres.
Information and communications technology: The playing field between rural villages and towns can be levelled by the application of information communication technology (ICT).
'Capital towns,' however small at first, will grow into centres of economic vibrancy and engines of economic diversification. They must position themselves at the cutting edge of the economy. 'Capital towns' must be firmly established. They can lead the development of regions through the delivery of services:
Public Services: 'Capital towns' must provide the full range of public services – education, health, housing, water, energy, law enforcement, taxation, immigration, insurance and the registration of births, deaths and businesses. A person should not have to leave his or her region to obtain these services.
Education is an important public service. Our town councils must take an interest in the education of our children. They must ensure that every child goes to school and stays in school.   Our quest to reduce poverty and inequality rests on our ability to ensure that every child receives a sound education. This is a responsibility which must now be shared by regions and towns.
Economic Services: 'Capital towns' must provide economic services to citizens – commerce, shipping, insurance, banking, micro-financing, telecommunication, tourism and manufacturing. The availability of these services will be an indicator of economic development within our regions. Municipalities must be capable of weaning themselves off of government subventions. They must generate their own sources of financing and raise their own revenues to finance their development. All of our towns will promote the 'green economy'. These towns will be encouraged to explore renewable sources of energy, the recycling of waste, environmentally sound solid waste management, the reduction of pollution and the development of environmental services.
Financial services: 'Capital towns' must address the economic plight of their economically vulnerable members. They must relieve unemployment and poverty. Each town will be encouraged to launch its own Municipal Enterprise Network (MEN) — similar to the Linden Enterprise Network (LEN) — as a means of using micro-financing to create jobs and reduce unemployment and poverty.
Municipalities must function like corporations. This status will allow them greater autonomy and financial independence. It will expand their revenue base and allow them to invest their surplus revenues prudently. Towns must be capable of eventually financing their own infrastructure, including aerodromes, bridges, roads, wharves and sports facilities. It will also allow municipalities to engage in promoting business, industries and manufacturing and, thereby, create employment.
Towns must become motors of business. A corporate model for our municipalities will allow them to actively promote and partner with private investors, for example to process this country's abundant agricultural produce for local use and for export. The expansion of agro-processing can become a source of employment and profit for municipalities.
Commercialisation and corporatisation
The establishment of new towns will attract industries which tend to be located in urban areas because they can gain from access to capital, labour and technical support. Towns, also, could provide markets for industrial products and provide access to other domestic and global markets through the established aerodromes, ports and transportation networks.
Municipal administration, especially with regard to the regulation of land tenure, taxation and public investment decisions, therefore, will be an important element in the new local government dispensation.
The best town development plan could fail unless the municipality has the capacity to execute it. Improvement in the municipal institutional framework is essential. There must be, additionally, better coordination and collaboration between municipal, regional and central government for finance, planning and other functions.
Central government, in order to address the challenges of urbanization, must implement some key reforms. These include:
Mobilising urban financing from local and foreign investors. These resources should be efficiently and adequately allocated between central and local governments' urban projects and should encourage strengthening the role of municipalities;
Mobilising human capital through improving access to education and healthcare services and facilities for all categories of citizens in order to meet labour market needs;
Defining and implementing clear urban development codes through the provision of integrated infrastructures and services that target the marginalized groups, including the poor, youth, women and elderly people. In addition, governments should act proactively to ensure orderly urban development; and
Diversification of economic activities through the creation of new economic hubs oriented towards sustainable and value-added production and exportation.
The democratisation of local government will ensure that our town councillors do not become armchair administrators. Local government elections will be held, as constitutionally mandated, every three years. Councils which neglect the development of their communities are likely to be replaced by the citizens. The right to elect and, implicitly, to remove non-performing councillors and councils will force elected municipal officials to vigorously pursue the development of their towns.
The democratization of local government is necessary for the planned economic take-off our towns and regions. Local democracy elections will allow us to unshackle the business and economic potential of our towns and regions.
Guyana's towns and regions are set to become new economic and business frontiers. Guyana's hinterland and rural landscape will be opened for orderly development. Our towns will lead this charge and in the process create boundless business opportunities for the business community in Guyana. Our aim is to modernize local government and to catapult our municipalities into the 21st century. Our objective is to catalyse the economies of our towns and communities.
Tremendous opportunities for all will unfold as we boost the economies of our regions through the instrumentality of our 'capital towns.' The challenges that present themselves will be dwarfed by the opportunities for economic growth that lie ahead.
Selected references
_______
British Guiana, Annual Report, 1960.
__________, Ordinance 2 of 1837, 1st March 1837.
__________, Ordinance 8 of 1891, 1st September 1891.
Girish P. Pant, "Urban development: determinants and devices," Himalayan Times, March 21, 2016.
Luc Chrtistiaensen and Joachim de Weerdt, "Urbanisation, growth and poverty reduction: the role of secondary towns." International Growth Centre, 8 September, 2015.
Guyana, Municipal and Districts Council Act  24 of 1969.
Guyana Times, "Bartica, Lethem, Mabaruma officially towns," October 29, 2015.
Kaieteur News, "Local Govt. Elections, Democratic Renewal and Regional Development," February 28, 2016.
Official Gazette (Extraordinary), 21 October 2015.
Stabroek News, "Towns and capitals," April 22, 2012.
___________, "President announces Linden action plan," December 11, 2015.