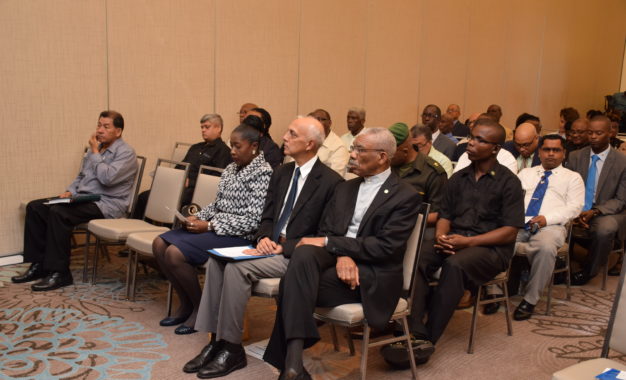 Government intends to establish a capital town in every region. Speaking at the launch of the National Regional Development Consultative Committee (NRDCC) on Friday, Minister of Communities Ronald Bulkan outlined the key roles that these towns will play in the development of the regions.
"Once firmly established they (the capital towns) can lead the development of regions through the delivery of services to residents of the region. Such services will include the full range to which citizens are entitled. No longer will persons have to travel to Georgetown to fulfill basic needs," the minister said.
The minister explained that no longer will persons have to travel to Georgetown to fulfill basic needs. He said that "capital towns will promote business, will drive economic development and give leadership to the regions."
The establishment of capital towns is grounded in the philosophy of President David Granger's that Guyana's development depends on strong regions, and that the development of the regions must be stimulated by 'capital towns,' each capable of providing the full gamut of quality public services. These include education, energy, law enforcement, health, housing, water, immigration, taxation and the registration of births, deaths and businesses.
Steadfast in this vision, in 2016, the administration, upgraded three communities to townships.  The three new towns – Bartica, Lethem and Mabaruma added to the six existing towns-Anna Regina, Corriverton, New Amsterdam, Rose Hall, Linden and Georgetown-in the country.
Prior to the establishment of these three new towns it had been 46 years since the establishment of towns. Anna Regina would have attained the status of township on August 01, 1970, Corriverton on September 07, 1970 and Rose Hall on September 20, 1970.  Linden was also declared a town in 1970.
Georgetown, the capital city, however was founded over 200 years ago under the Europeans during colonialism. The township of New Amsterdam however is Guyana oldest town,  established in 1791 by the Dutch.
During his presentation of the 2017 Budget to the National Assembly in December 2016, Finance Minister Winston Jordan, explained that in 2017, additional, capital towns will be  identified for Regions Three,  Four,  and Five, following  the identification of Mahdia as the capital town in Region Eight.  He explained that these capital towns will serve as the official seat of governance and the central hub for the provision of public services.
President Granger has previously suggested that possibly Parika (Region Three) and Fort Wellington (Region Five) could be upgraded to township status.
By: Macalia Santos | GINA