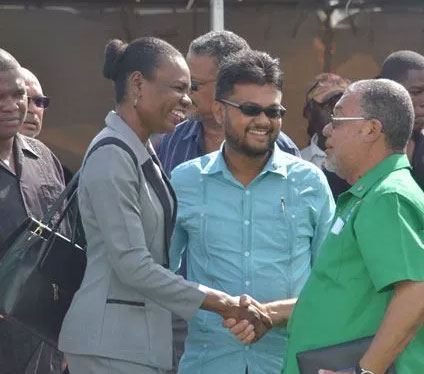 ─ Mayor looks forward to communication between M&CC and the Public
─ Tax increase suggested by former solid waste officer
DPI, Guyana, Wednesday, March 27, 2019.
Issues with garbage disposal, drainage and irrigation and health were addressed by the three main departments of the Georgetown Mayor and City Council (M&CC) Engineering, Solid Waste Disposal and the Department of Health, at the massive government outreach held at the Square of the Revolution on March 27.
The Council worked alongside the Ministry of Communities to address these various issues.
Mayor of Georgetown Ubraj Narine said, he is thankful for the collaborative effort between the M&CC and the Ministry of Communities.
"We are here and we will see them (citizen). We have different logbooks to take the complaints, for the various departments… so that we can be able to fast track it. Some will be solved here, others will be addressed later and the logbook will provide the necessary information for us to fast track it."
Mayor Narine said he is optimistic the exercise will foster more communication between the general public and the City Council.
Gail King, 64 and a former Solid Waste officer came to the outreach to raise her concern about retroactive payments for pensions from the M&CC and has since received a response with which she is contented.
King is also of the view that business owners should pay more taxes.
"I think, the government should pass some legislation to have the business people pay more taxes.  Since in my time, a businessman was paying $12,000 and $15,000, that's just a little bit of money. And because the council depends largely on the markets and the other little things, it makes it impossible for them to get more done …  so yes, businesses have to do more."
Further, on the note of collecting rates and taxes, King opined that persons who are adding rooms to their property should also be required to pay more taxes to assist in the increase of revenue for the M&CC.
Kipenie Jordan. | DPI

Images: Kawise Wishart and Giovanni Gajie.