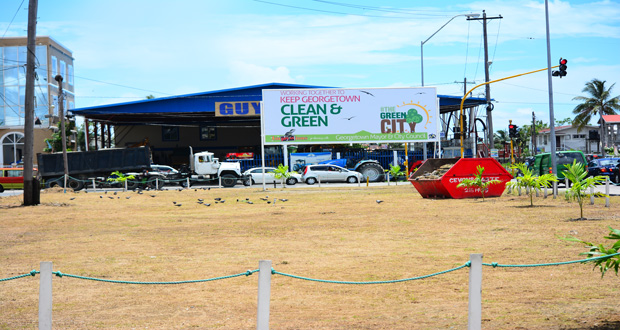 THE Mayor and City Council (M&CC) is continuing efforts to garner the support of the business community and citizens of Georgetown in renewed efforts to bring about the restoration of the "Garden City."Georgetown Mayor Hamilton Green in a recent appeal at a special meeting of stakeholders and concerned citizens, said that, "Georgetown is a complex city, and the only way we [can] achieve our goals is by working together and keeping our surroundings clean."
One of M&CC's main aims will be to rescue the parapets from businesses so that they could be used for the intended purposes, and Green said that, "there will be no more covering of the parapets."
This will in turn help to protect the city's "fragile drainage system," and reduce the mass water build-up which is visible when there is torrential rainfall.
While the citizens are contributing in their own way, the M&CC will be moving towards strengthening and enforcing the laws.
Cars that are parked on city streets, particularly in restricted areas, for more than two weeks will be removed.
"Starting on Friday, a team along with myself will be patrolling the streets looking for persons who are in favour of committing these wrong doings," said the mayor.
Apart from that, restaurant owners will be warned to install grease traps so that the drains will not be blocked by grease and there would be a smooth flow of water through the drainage system.
The payments of rates and tax will also be addressed, because according to the mayor, without those monies the M&CC would not be able to provide substantial work, or even any work at all, since that is one of the M&CC's sources of income.
INCENTIVES
As a reward for abiding by the laws and keeping the surroundings clean, the mayor said that incentives will be offered.
Meanwhile, while addressing the audience, Deputy Mayor Patricia Chase-Green pointed out that, "it is time for reality checks on what is happening, what they intend to do and what they intend to achieve in the future…we must know the vision for Georgetown in the next 5-10 years."
Over the past few years, she said, they have not been able to function as a council, but now that they have the full support of the Government they will be able to execute their plans and strategies to the best of their abilities.
However, in doing their part, they are also calling on the citizens of Georgetown to come out and support their initiatives and also on their own, ensure that their immediate surroundings are kept clean at all times.
"The soul of our Garden City has been stolen, but we must rebuild our city and regain the confidence which was once displayed," she emphasised.
The audience demonstrated satisfaction at what they heard with constant applause, while some minor interjections and suggestions were made.
PARKING PERMITS
For instance, persons supported the removal of vehicles from the road, while persons suggested that the M&CC should issue permits to persons so that if they wish to park on the road they could purchase a permit.
In turn, the M&CC will receive some sort of revenue from this which they could use for other developmental purposes.
Apart from that, persons proposed that a board which comprises youths should be formed so that they could reach out to other youths and highlight the importance of a clean and healthy environment.