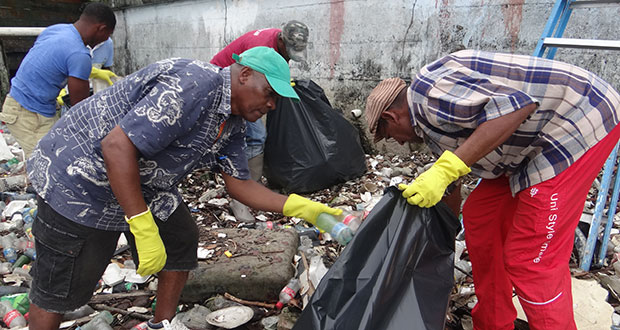 THE MINISTRY of Natural Resources and the Environment has commenced the second initiative under its, "A Clean Environment" Project by providing support to clean up the beach front of Bartica, Essequibo, Region 7.Bartica was selected as the first of the new towns set to benefit from this initiative, which is designed to support the communities as they transition to township status. The works are scheduled to be completed before the declaration of township on May 7, 2016.

A release from the Ministry noted that Mayor of Bartica, Gifford Marshall expressed gratitude for the support received.
"We communicated with the Ministry of Natural Resources and we are very happy that they are on board to assist us in cleaning up our beach area.
This particular area is one of the views you will see as you come into Bartica and it is time that we keep this area free of garbage," Marshall is quoted in the release as saying.
The project was launched on April 15 and aims to pilot initiatives across the country to promote enhancement of the environment. According to the release, the first initiative – the Best Kept School Competition – was recently piloted in Region 5.
Coordinator of Environmental Awareness and Enhancement at the Ministry of Natural Resources Dr. Latchmin Punalall, who is responsible for the oversight of the project, reinforced the Ministry's commitment to support the people of Bartica and encouraged residents to keep the environment clean.
Other areas earmarked to receive support include Kwakwani, Mabaruma, Port Kaituma and Lethem.