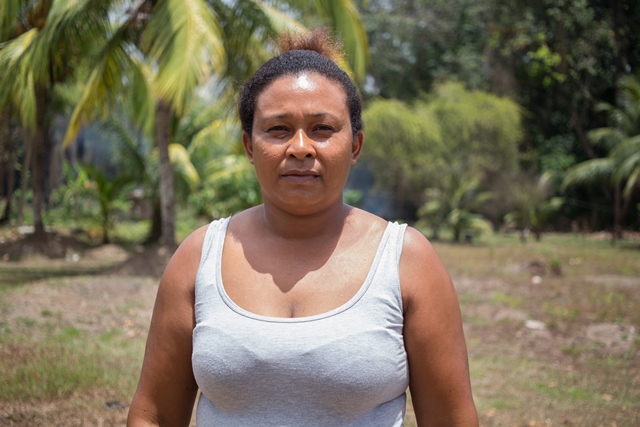 ─ residents say they are moving forward with the Coalition Govt
─ residents praise Coalition Govt for new road
DPI, Guyana, Friday, March 22, 2019
Residents of Barabina Hill, Mabaruma (Region 1), say they are moving forward with the Coalition Government who has brought much relief to them in only three years.
For more than 23 years, residents of the close-knit community of almost 500 had been wallowing through swampy lands to get to the main thoroughfare.
Although billions of dollars were spent overtime to rehabilitate the road, residents continued to suffer daily. However, their lives were transformed when officials from the Ministry of Public Infrastructure endeavoured to have a bypass built a few feet away from the swampy road. Many expressed their gratitude for the outstanding work done by the Coalition Government in a short time in office.
Phillip Chu, who has been living in the community for some 25 years, said until 2018, he had never had a pleasant experience traversing the road.
"We suffered here for many years. We went through the hands of the former government; they promised we that they will do the road, but they give a contractor and they destroyed our road and leave us just like that."
He said it was the Coalition Government that brought relief. "They [Coalition Government] tried their best to satisfy us in this community. We are satisfied with the road with the government's help. We know that the government is trying with us and the next election he will be up again," he said.
Forty-three-year-old Roxanne Skeete has lived all her life in the community. "Twenty to twenty-three years we were suffering very much. We were also neglected. As a resident of this community, I am very thankful for this Coalition Government for fixing this road and a blessing to the contractor who had worked day and night for us to use that road.
"With this Coalition Government, we are very thankful. Vehicles, school children and government are all traversing that road, so we are very thankful. I must say a big thank you and a hundred per cent to the Coalition Government… I know that we are moving forward and not backward."
Teacher Tomika Robinson said she has been able to make it to school on time since the road had been fixed.
The government, through the Ministry of Public Infrastructure, has pumped a whopping $60M to rehabilitate the roadway. Residents said they are happy that this administration moved the road to the new location; a few feet away. Construction Company International Imports and Supplies undertook the project which was completed earlier this year. The company is currently building a concrete bridge connecting the road, much to the satisfaction of residents.
Alexis Rodney.
Images: Leon Leung. | DPI