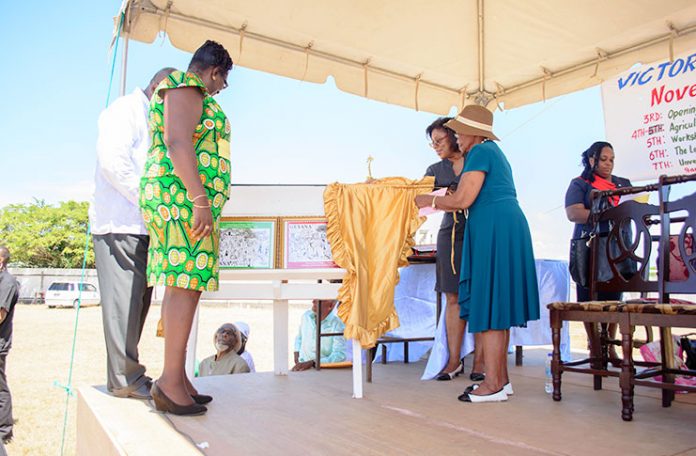 THE Guyana Post Office Corporation (GPOC) on Monday unveiled two new commemorative postage stamps at the Victoria Indaba, National Day of Villages observance.
The new 'Victoria Village' stamps will be available for circulation in $80 and $150 denominations at post offices countrywide. The stamps were unveiled by Evelyn Bacchus, Victoria's oldest resident, and will depict the exodus of emancipated Africans from the plantations, and their subsequent purchase of Plantation Northbrook (Victoria) on November 7, 1839.
"Commemorative stamps are the perfect memorabilia to celebrate an anniversary or significant event. Such stamps are circulated both locally and internationally to a wide cross-section of people," a statement from the Post Office said on Monday.
GPO Chairman, Reverend Raphael Massiah, told villagers that the country's first postal service was offered by the French in 1792, while the first Post Office was established in 1793 and the Guyana Post Office Corporation was birthed in 1952. "We are standing virtually on sacred ground. I say sacred because, as I reflect on the exodus and the purchase in 1839, they were not just enslaved by shackles and bonds, and the fact that they did not have their freedom; but they were debarred from entering into formal activities.
"Even though they had money, they could not have paper money; they could only have in their possession coins," said Reverend Massiah.
He said the debarment of the former slaves from the banking system and the official financial system did not deter them. They saved their coins, and "when the time was right for lands to be purchased, they were ready to purchase".
The GPOC chairman said this generation of people owes its ancestors a "debt of duty" to ensure that the villages purchased and developed after emancipation never fall into disrepair.
He encouraged all villagers to visit the Post Office and purchase "the very first village day stamp" which is being sold at $1000. He said it is something that is purely Guyanese, and is something which can be reflected upon.
"… as we launch this stamp today, we are not alone in thinking of the 'exodus and the purchase', but we want to encourage all the children to have an understanding of the meaning of the 'exodus and purchase', so that we will never surrender what is ours," said Reverend Massiah.