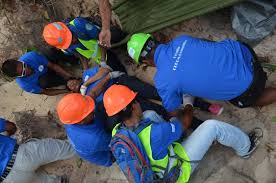 Several communities have been benefitting from community based disaster response training through the Guyana Red Cross Society (GRSC) in partnership with the Civil Defence Commission (CDC), the Regional Democratic Councils, the Ministry of the Presidency, the Environmental Protection Agency and the Mayor and City Council of Georgetown.
Residents of Imbotero and Smith's Creek in the Barima River, Region 1,  Kaiburi and Friendship in the Pomeroon River,  Region 2, Crane and the Met-en-Meer-Zorg on the West Coast Demerara (WCD), Region 3, Albouystown, Lodge and Ruimveldt in Region 4  and  Moraikobai in Region 5 are being trained. At the end of October, the participants will be prepared to respond to future local or national disasters.
First Aid and Occupational Health Safety (OHS) Coordinator, of the GRSC, De Vaughn Lewis says the exercise is in response to the severity of the damage sustained and the level of vulnerability observed in these communities following the July 2015 flooding.
Heavy rains during that month caused severe flooding in five regions in Guyana: Barima-Waini, Pomeroon-Supenaam, Essequibo Islands- West Demerara, Demerara-Mahaica and Mahaica- Berbice. It resulted in varying degrees of damage to housing and buildings, livestock and farms, cash crops and water and sanitation facilities.
"Coming back from that assessment and also reports, we decided that those communities were vulnerable and needed the help," he said.
Using the sum of 148,142 Swiss francs obtained from the International Federation of Red Cross and Red Crescent Societies (IFRC) Disaster Relief Emergency Fund (DREF), Lewis explained that from August 1, the GRSC began supporting the delivery of disaster risk management assistance to  2,500 people (500 families) in these 10 communities.
He explained that this support, which is expected to conclude by October 31, includes  first aid training, CPR, as well as  water and sanitation, hygiene and road safety (in some communities boat safety) promotion. (GINA)