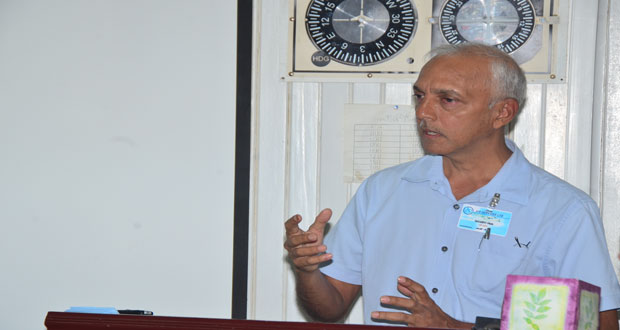 MINISTER Ronald Bulkan of the Ministry of Communities said last week that that Ministry is in process of expediting all applications for house lots; this in the wake of a recent land-grabbing exercise staged by disgruntled residents along East Coast and East Bank Demerara.He acknowledged that a recent short-lived land-grabbing exercise of state and privately-owned lands by some members of the public highlighted the urgent need for assisting citizens who are in dire need of land for housing.
He disclosed that an in-depth review of past applications is currently ongoing, with the intent that all applicants who qualify are given house lots to build their own homes.
He further stated that in addition to these actions, the Ministry, over the next five years, intends to build approximately 4,000 houses in cohesive communities to benefit more than 4,000 households and approximately 16,000 persons.
The idea of cohesive communities is to ensure that the shelter and other needs of households are met in an effort to address issues such as availability of day-care facilities; functioning playgrounds; proximity to jobs, schools and other amenities that are consistent with improved quality of life in communities.
In the cohesive communities, emphasis would be placed on the provision of social infrastructure and other amenities, in addition to the regular services, such as electricity, roads and water distribution networks.
He disclosed that Minister Keith Scott, who functions within the Ministry of Communities, has begun weekly meetings with members of the public, to discuss their issues and to help them. Minister Scott meets with the public every Wednesday, between 09:00 hrs and 11:30 hrs. This initiative began on Wednesday, June 10.
In the wake of the swearing in of the coalition Government in early May last, land grabbing situations along the Coast escalated, with state and privately owned lands being encroached upon by persons who marked out house lots for themselves. During that action, residents of Success, East Coast Demerara blocked the main carriageway on the Railway Embankment with debris and other obstacles. Those involved in the illegal activity desisted only after being told by the Government that their needs would be seriously addressed by the incoming Administration.
(Clifford Stanley)