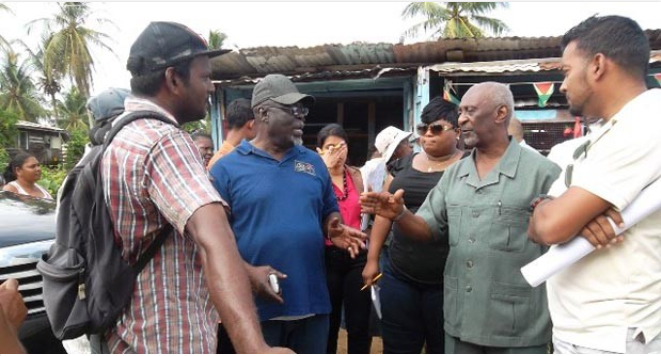 The community of Eliza and Mary, Region Six will be handed over shortly to the Corriverton Town Council. This was confirmed on Thursday by Minister within the Ministry of Communities, Keith Scott, during a visit to the small community, which is home to over 600 persons.
Scott was at the time inspecting projects being executed by the Central Housing and Planning Authority in Region Six, to identify areas for improvements. The Minister also took the opportunity to share Government's vision of building cohesive communities with the residents, and listen to their various concerns.
The Minister encouraged the Town Council to improve collection of rates and taxes to facilitate adequate service delivery. Scott is of the view that money should not be the only resource for the provision of proper services. "There needs to be creative ways in which residents and the Council could collaborate to develop the community".
Scott believes that community development could be achieved with active participation by residents and input from the Local Authority. He noted that Eliza and Mary was a squatting area that has been regularised and residents should therefore be accustomed to working together, to realise the common goals and objectives of their community.
The Minister also visited Angoy's Avenue, which is currently being regularised by the CH&PA. Several issues, including the need for potable water supply and upgraded roads were raised by residents.
Other areas visited by Minister Scott include No.77, No.76 Phase Two, and Kilcoy/ Chesney Housing Schemes, and the area earmarked for the development of a housing scheme at Williamsburg.