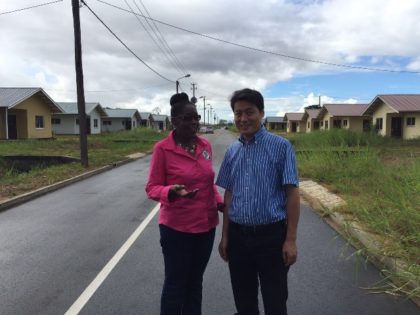 A high-level delegation including Minister responsible for Housing, Valarie Patterson, recently visited Suriname to explore a proposal by a Chinese Engineering Company for the execution of low-cost housing in Guyana.
The team comprising, Central Housing and Planning Authority (CHPA) Board Member, Mark Jacobs, Chief Planning Officer, Rawle Edinboro and Guyana Wastewater; Pilot Coordinator, Marlon Daniels, returned on June 27 for the two-day visit to the Zhong Da International Engineering Company.
Minister of Communities, Ronald Bulkan said government recognizes that the housing sector is a key and critical area that has great potential to impactnational, social and economic development.
He added that housing also provides great opportunities to create the conditions for cohesive and consolidated communities and as such the ministry responded positively to the invitation from the engineering company which is operational in the Dutch-speaking territory.
The visit, the ministry said, is in keeping with government's agenda forthe housing sector to facilitate cohesive, consolidated and sustainable communities and to provide opportunities for all Guyanese to improve their quality of life by having their own homes.
Bulkan stated that the opportunity to physically examine, assess and evaluate the company's work output will serve as the yardstick for the consideration of a partnership arrangement between government and the company.
According to Bulkan, the company has the planning and execution experience of constructing 550 sets of low-cost housing projects in Suriname.
"Its philosophical position on housing is well-matched with the government's thrust towards setting housing in the context of an approach to the development of sustainable communities."
The
However, a critical examination and review of recent interventions in the area of housing in Guyana points to several key issues and challenges affecting the sector. The following are some of the issues; the prevailing low levels of occupancy of schemes, affordability challenges on the part of beneficiaries, relatively limited success under the model of government as a direct provider of housing and the spatial elaboration of housing being the implication of sprawl as opposed to the development of compact communities.
It is still a commonly held view that government should embrace the principle of partnership in seeking to advance its development objectives in the housing sector and in such arrangements seek to consolidate and enforce its coordinating and regulatory role, as opposed to its role as direct provider but in the context of clearly defined and agreed upon operational protocols and a commitment to affordable standards.
In consideration of potential partners in pursuit of Guyana's housing agenda, it is also important to consider the pressing need to consolidate the many unfinished schemes and examine new housing delivery approaches.
In moving forward with housing in Guyana, there has been the recognition to more meaningfully embrace the idea of housing not as the mere provision of a house plot or a poorly constructed low-cost houses but rather to view housing as part but rather to view housing as part of a larger social structure characterized by socio-economic interactions in space with the immediate community and wider society. It is in this context that housing now has to be strategically aligned alongside larger community development goals- a work in progress for the Ministry of Communities/Central Housing and Planning Authority.
The practical response challenge in terms of revisiting the approach model to housing in Guyana can be surely enlightened by carefully reviewing relevant lessons of practice in countries with socio-economic similarities with Guyana a typical example would be Suriname.
Regarding this aspect, a recent proposal by China Dalian International Cooperation Group (CDIG), the parent company of Zhong Da was recently reviewed.
This company has 18 years construction experience in Suriname and is also familiar with local construction conditions.
Additionally, what is very significant about CDIG is that it has recognized the need for housing as part of community culture and an opportunity to work with government to shape a community residence model with local characteristics.
This approach involves three key principles and is well aligned to Guyana's policy thrust in the housing sector.
A partnership approach-building strong alliance and cooperation between government, banks and contractors
Livelihood promotion- combination of people's livelihood promotion and business operation
Community Integration- integration of low cost housing with harmonious community objectives at the local level as well as social and economic development at the national level
Background to CDIG
CDIG entered Suriname in 1999 and has had the experience of the planning and implementation of low-cost housing projects.