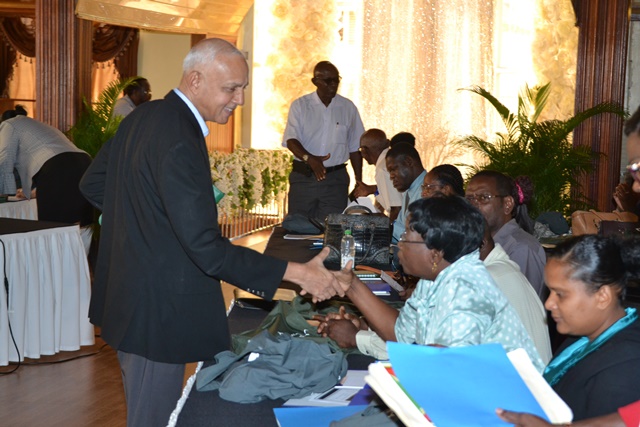 Prepared to implement solutions to human resource challenges within Guyana's regions, the Ministry of Communities today held its annual Round Table on Regional Development Conference.
The forum aims to also enhance human resource availability to achieve the objective of efficient and effective service delivery to citizens.
Minister of Communities Ronald Bulkan said that the 2019 Budget provides the sum of $44.7 Billion as compared to 2018's $38.1 Billion budget allocation. However, the minister noted that with this allocation every region saw a 14 percent increase from the 2018 budget.
"Despite these unprecedented achievements, we recognise the need for the capacities of our regions to be further strengthened so that our regions are able to deliver larger projects and programmes that will redound to the benefit of the citizenry. The Ministry will redouble its efforts to provide technical support towards the realisation of the strategic objectives of the core Programmes of Education, Public Health, Public Infrastructure, and Agriculture," Minister Ronald Bulkan said.
Other objectives the Minister highlighted at the conference were the need for critical reassessment of vacancies existing within the Local Government Organs (LGOs) and its impact on Public Sector Investment Programme (PSIP) implementation and delivery of services; creation of an avenue to better understand the common problems and issues regarding development within the LGO's; identification of an approach to strengthen human resource issues relating to employment and to establish a practical guideline policy.
Minister Bulkan added that last year's discussion saw a number of intervening events such as the delay in the reconstitution of the Public Service Commission and the transferral of contracted workers on the pensionable establishment.
He assured that the Ministry aims to increase the role of communities to bridge the gap between the conditions on the coastland and the hinterland through the empowerment of all stakeholders (CDC's to RDC's), by building their capacity to become critical partners to deliver optimal benefits to residents.
"Our regions must be given the requisite tools to function to its optimal capacity. Gone are the days where our regions are treated with extraordinary disrespect by central government through its dictates and domineering position," Minister of Communities, Ronald Bulkan said.
The conference is being hosted under the theme "Building human resource capacity within the local government organs in an effort to enhance the delivery of services required to achieve national development and the good life."
Ayana George.
Images: Jules Gibson. | DPI