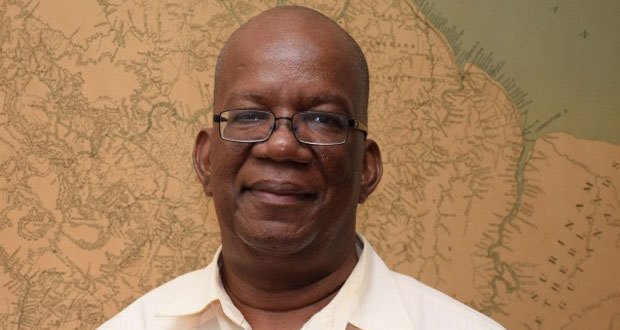 By Ariana Gordon
GOVERNMENT has undertaken to prepare a Plan of Action for Regional Development (PARD) in all administrative regions, says Finance Minister Winston Jordan.Jordan, in his maiden full year budget presentation to the National Assembly on Friday, said last year significant advancement was made in the completion of a pilot draft PARD for Region 10. That draft PARD outlines the region's development agenda over the next 10 years.
"The process of preparation involves region-wide consultations with all major stakeholders. In 2016, this process will be replicated in two additional administrative regions drawn from the coastland and hinterland," Minister Jordan said.
The Finance Minister noted that local representatives elected by citizens will play a critical role in ensuring the towns, municipalities and villages have better management and more accountability and autonomy in local affairs.
With Local Government Elections (LGE) around the corner, Government expects that the new system of local governance will provide for the effective maintenance of community roads, streets, street lights, drainage canals, playgrounds, and solid waste management.
According to Mr Jordan, "The people are eager to practise local democracy through participatory methods." He pointed out that, with new life breathed into the Local Government system, it is expected that citizens will be pleased.
Local Government Elections were last held in 1994. Prior to 1994, elections were held in 1970; it therefore means that citizens will be going to the polls for LGE for the second time in 46 years.
FULFILLING A PROMISE
The APNU-AFC Coalition Government has made good on its elections promise to host the LGE. It has continuously stressed the importance of having such elections regularly.
Local government embodies a system of locally elected members representing their communities and making decisions on their behalf. Local issues are better taken account of by local governments that are charged with decision-making powers within their communities.
The local authorities, however, have to work closely with Central Government and other stakeholders to achieve their goals; and once elected, they are empowered to serve the people who live within their municipalities, Neighbourhood Democratic Councils (NDC) and constituencies.
But with the 19-year hiatus, the majority of Guyanese are ill-informed or rather lack the requisite understanding about local governance.
As such, the Guyana Elections Commission (GECOM) is responsible for educating the masses about the importance of the elections, and why they need to vote.
AGGRESSIVE CAMPAIGN
GECOM's Chief Executive Officer (CEO) Keith Lowenfield, and his Deputy Vishnu Persaud recently said the Commission had embarked on an aggressive education campaign across the country to ensure persons understand what LGE is all about.
Meanwhile, GECOM Commissioner Vincent Alexander, in a recent interview with the Guyana Chronicle, said the majority of citizens would be going to the polls either uneducated or not sufficiently educated on local governance.
He explained that education on local government should have taken place a number of years ago, so that the masses would understand the importance of the LGE.
"I think it is not just about Local Government Elections but about Local Government, because, really, people are not very conscious of the presence of local authorities and the functions. What is most important now is knowledge about Local Government itself," he told this publication.
He believes that with sufficient knowledge of Local Government, persons would then be in a better position to appreciate the importance of the elections.
"When local bodies are in place, people can have the kind of relationship to ensure there is accountability and things like that," added Mr Alexander, who believes that Local Government education is "long overdue."
GECOM has received $3.574B to execute its mandate, with $1.908B to be used to conduct LGEs in the 71 Local Authority Areas (LAA) across the country.