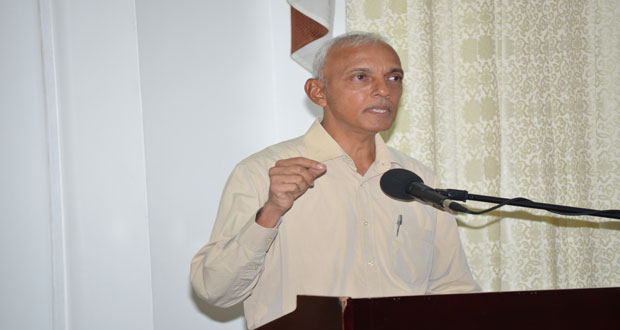 MINISTER of Communities Ronald Bulkan has asserted that the expertise and experience of engineers and other technical specialists would be optimised as the ministry strives to build cohesive, sustainable communities across Guyana.This was expressed by the minister during his address to engineers, technical specialists and project coordinators from the Department of Housing, Department for Water, Department for Local Government and Department for Regional Development at an Engineers' Workshop.
Ministers within the Ministry of Communities, Keith Scott and Dawn Hastings-Williams, Permanent Secretary Emil McGarrell, and Technical Adviser to the Ministry of Communities on projects, Charles Ceres, were also in attendance at the interactive workshop held at the Arthur Chung Convention Centre,Liliendaal, on Friday.
The workshop sought to ensure that engineers are familiarised with and sensitised to projects being undertaken by each department under the new ministry, since they will be harmonised into one unit to achieve the policy direction of the A Partnership for National Unity+Alliance For Change coalition Government (APNU+AFC). One critical function envisaged under the unit will be to conceptualise projects and devise solutions to problems.
According to Bulkan, merging the Ministries of Housing and Water, and Local Government and Regional Development to form a ministry named "Communities" was strategically done to convey a different, wider focus.
"Formerly the concept of water and housing were limited to the delivery of pure water and houselots or just a house. The thinking of the new ministry is to create cohesive and sustainable communities focused on human needs and human conditions," Bulkan emphasised.
"Sustainable communities will ensure citizen satisfaction is derived from the provision of durable roads, proper solid-waste management, adequate lighting, security, fire hydrants, playgrounds, recreational facility, schools and health centre," the minister noted.
"The vision is to move beyond basic provisions and direct attention towards all the needs for wholesome and dignified living," he added.
Minister Scott, who has responsibility for Housing within the Ministry of Communities, pointed out that "we can no longer afford to work as individual sectors, we must unite and harmonise the sectors to ensure that a collective approach is achieved."
Scott added that this approach will reduce the total cost for infrastructure, meet the needs of the poor, and foster development of new and existing communities and municipalities.
He said that the workshop signalled the commencement of the process of harmonising the functions of each sector to form a collective, organised unit, with the main focus being the delivery of infrastructure and efficient services to Guyanese.
With regard to the development of hinterland communities, Minister Hastings-Williams alluded to the need for advancing infrastructural development in the hinterland regions to improve the lives of citizens and reduce poverty.
According to Minister Hastings-Williams, for too long the hinterland regions were left lagging behind with little or no infrastructural development and poorly equipped schools and health cottages. She believes that professionals such as engineers would help Government eliminate those challenges.