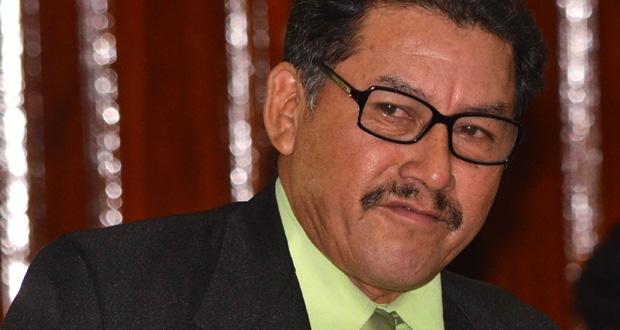 MINISTER of Indigenous People's Affairs Sydney Allicock,has said the proposals in Budget 2016 for the indigenous community is geared towards advancing development. Speaking with the Guyana Chronicle at his Middle Street office on Wednesday, Mr Allicock said most of the ministry's ongoing programmes will continue.
These initiatives are directed, primarily towards training individuals in indigenous communities across Guyana.

The targeted areas of training include community resource management, sewing, mechanical engineering, learning how to drive and Information Technology (IT).
The IT training, he said, is to support the IT hubs across the country which continues to be furnished with much-needed equipment.
Mr Allicock, who is also a vice-president, said much attention will also be given to infrastructural development. Though he was not in a position to specifically list the projects which are expected to be catered for in the budget, he disclosed that these include schools, health centres, bridges and roads in indigenous communities.
But while these will be facilitated in the proposals of other ministries, such as the Ministry of Education and that of Public Infrastructure, the minister noted that it will be done through a collaborative effort with the Indigenous Affairs Ministry.
"We discussed with the other ministries what were needed in some of the communities including infrastructural needs, and need for training. Also we will be looking to upgrade the security system in these Indigenous communities. This is being done by the Ministry of Public Security, but we will be playing an active role in supporting them," Minister Allicock said.
Communication is an issue in some indigenous communities, and Minister Allicock said that it will be given priority attention this year.
He also underscored the importance of community empowerment.
"We are looking towards equipping and supporting these communities to manage their own affairs. We will support them whether through finances or other means, once we can. This way, they can exploit their potential and carve their names into the tourism industry," Minister Allicock said.
Resource management, he said, is key for this to happen, and on that note, stressed that issues of land demarcation is being addressed.
The ministry continues to work assiduously to address these matters which require strategic planning and extensive consultations with residents.
By Ravin Singh