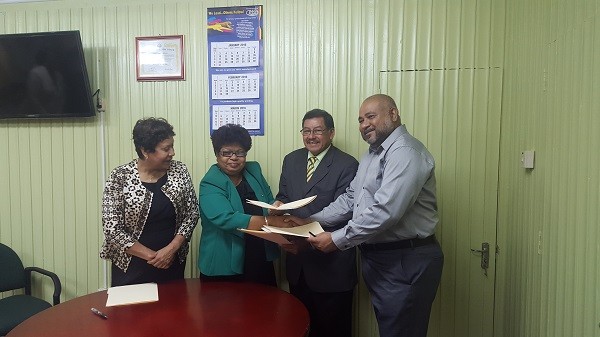 Georgetown, Guyana – (March 11, 2016) The Ministries of Social Cohesion and Indigenous Peoples' Affairs, today, inked a Memorandum of Understanding (MoU) with the Institute of Applied Science and Technology (IAST) for the provision of research and development, sustainable business development and analytical services.
The agreement was signed between Minister of Social Cohesion, Ms. Amna Ally, Minister of Indigenous Peoples' Affairs, Mr. Sydney Allicock and Director of the IAST, Dr. Suresh Narine.
The IAST will employ scientific research, infrastructure and personnel and those of its partners such as the Trent University, to undertake projects in indigenous communities which have been identified by the Ministries as priority areas for sustainable development.
Minister Ally said that work has already commenced in the Upper Takutu-Upper Essequibo (Region Nine). These projects will not only benefit the participating communities, but the country as a whole.
"Today we are signing [an] MoU to basically concretise our efforts of working together and to advance the cause not only of the Ministry of Social Cohesion and the Ministry of Indigenous Peoples' Affairs, but the [general] Government," she said.
Under the MoU, the IAST will be examining areas such as sustainable value-adding to agricultural produce, development of personal care, nutritional and pharmaceutical products using indigenous knowledge, information and awareness of forest and other habitat-specific botanicals and development of sustainable processing technologies among other areas.
Dr. Narine said that this is a very exciting juncture for the IAST, working with both Ministries within the context of social cohesion and sustainable development.
"What is important to recognise is that knowledge on its own becomes very insignificant unless that knowledge is married to opportunities and unless it is married to opportunities for social upliftment. So here we are talking about a very exciting approach to harnessing for example, the medicinal anthropology of our indigenous peoples and marry it with modern ways of processing, modern ways of measuring dosages and impacts and efficacies," Dr. Narine explained.
Meanwhile, Minister Allicock said that with this type of technical support, indigenous communities will be able to make a greater contribution to national development. He added that this is all part of the Government thrust to build stronger, more cohesive communities.