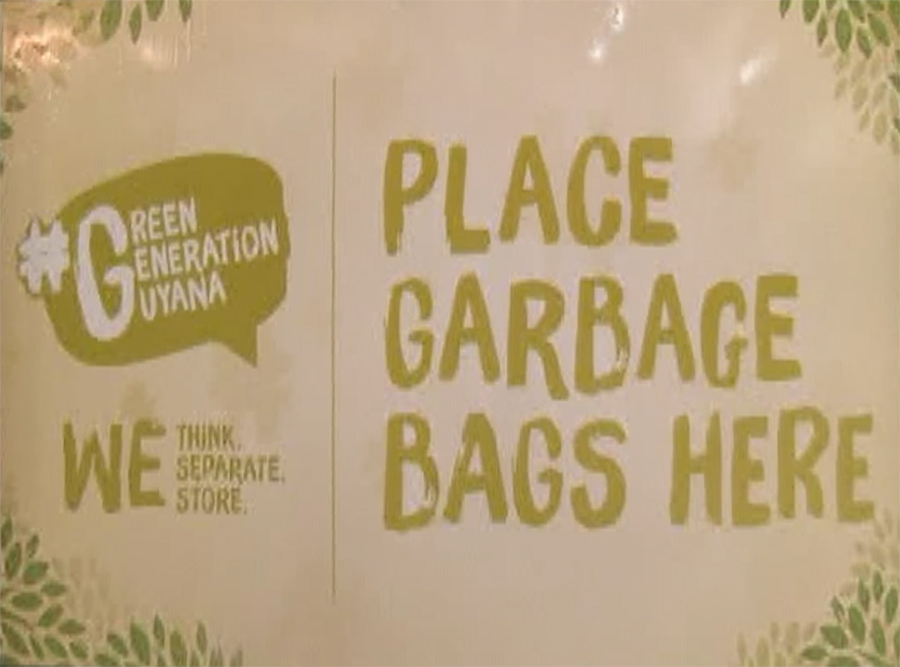 –          Faith-based organisations, NGOs being enlisted to push campaign
–          Government to focus on technical, material support
The Ministry of Communities on Wednesday launched Green Generation Guyana (#GreenGenerationGy) a Public Education Campaign to promote improved solid-waste management in the home and community. The launch took place at Camp Wesleyana on the Soesdyke-Linden Highway.
Green Generation (#GreenGenerationGy) is a multimedia campaign directed at young children with the goal of developing a new generation of citizens of Guyana who will grow up with an environmental consciousness and with habits that are green and sustainable. The hope is that for this next generation of Guyanese, good solid-waste management practices would be a natural way of life.
Speaking at the simple ceremony to launch the initiative, Minister within the Ministry of Communities, Dawn Hastings-Williams referred to the assembled children as "leaders of today" stating that "if you can start with keeping Guyana clean I know that I can look ahead and see that Guyana would have an exemplary culture of solid-waste management."
Minister Hastings-Williams added that "the Ministry of Communities wants to partner with children to create an environment for the growth of healthy young men and women because for Guyana to develop we need healthy people who have grown up with the right attitude and the right habits. I hope that you would take what you have learned back to your homes and schools and churches to share with those who were not here."
The Leader's Guide for the #GreenGenerationGuyana Campaign states that children are a powerful and under-utilised force in the family who often insist on habits learnt in the formal setting.
"…This power must be unleashed to tackle the issue of solid waste management – one of the most critical issues of our time. Children are the perfect vehicle for counter-culture movements, which good solid waste management practices are in Guyana – counter culture. Also, with children we get to train behaviour rather than try to change behaviour."
Speaking after the launch, Alex Graham CEO of Tagman Media, the consultants on the project, said that "the campaign is hoping to achieve five things: (i) Restarting public education with children in the hope of building a new generation of environmentally conscious citizens, (ii) Shifting the role of central government away from education and advocacy to providing technical assistance and other resources, (iii) Developing a grass-roots, community based approaches to solid waste management education, (iv) Utilizing existing programmes instead of creating new ones, and (v) Assisting organisations to see where effective SWM practiced fit with their doctrine, principles and values."
The launch took place during a session at the Young Teens Camp being conducted by The Wesleyan Church in Guyana. Later in the day a visit was made to the Kuru Kuru Training Centre where a camp was being conducted by the New Testament Church of God. Other camps and programmes being conducted by faith-based and other organisations will be engaged during the August holiday period.
During August holidays many children attend summer educational programmes at various institutions Vacation Bible Schools, other religious programmes, religious camp, youth camps, sports programmes etc. Many of these programmes have periods of instruction in religious doctrine, and or moral and ethical teaching. Secondly, there are extensive practical activities inclusive or arts and crafts that generate waste material and thirdly, there are mealtimes that also generate waste. These instructions sessions and other activities provide opportunities for infusing good solid waste practices in the teaching/instruction sessions and reinforcing these instructions during the practical sessions.
Children are being urged to "Think-Separate-Store" the waste generated by their various activities.
Each organisation is receiving the #GreenGenerationGuyana ToolKit and each camp site is receiving bags of two different colours for separating solid waste into organic and inorganic and mobile bins to assist with storage in the camping area.