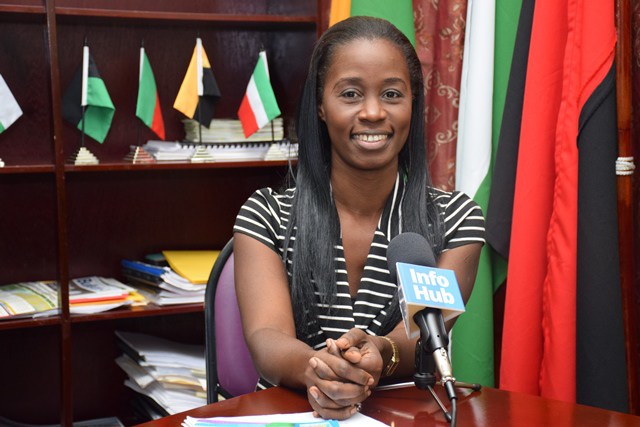 DPI, GUYANA, Friday, July 21, 2017
As the green agenda moves apace, more primary school students are set to benefit from the Sanitation Management Unit of the Ministry of Communities 'Green Generation Guyana Project(3G)'.
Speaking with the Department of Public Information (DPI), Public Relations Officer (PRO) at the Ministry, Danielle Campbell-Lowe said the next phase of the project begins in October and will target students in Mabaruma and Anna Regina. Some $1M is being spent to execute the project
"The Green Generation Guyana Project is an awareness project that was developed with the aim of encouraging school aged children to adopt safe waste management practices. We believe children are one of the main conduits of lifestyle changes and promote change, hence the reason why we targeted primary school children,"
Campbell explained that the unit would sensitise the children on safe waste management practices and teach them waste management concepts of; waste separation, reuse, recycle and rethink. The unit also distributes two colour coded bins for each school, with organic and inorganic labels.
The project was launched in August 2016 by Minister Dawn Hastings-Williams at three summer camps along the Linden Soesdyke highway. Since then, over 200 students from 20 primary schools across Guyana have benefitted from the project.
The unit will also host a summer camp which would also fall under the green generation banner. The Green Generation Guyana (3G) camp will be piloted in Region Three, "and we're hoping that next year and years to come other regions would come onboard and would be able to run off their own camps in the August holiday, Campbell explained.
The camp will commence from August 14 to the 25 and some 60 students from four schools in Region Three will be targeted.
Additionally, Campbell-Lowe added that it is the Ministry of Communities intention to develop Guyana with a modern waste management system inclusive of recycling and reusing. "Because we know that Guyana doesn't have a recycling system as the magnitude of other countries so, we're hoping to move into that arena and we're hoping that the agencies can get onboard with us in this regard."
The PRO pointed out that it is the Ministry of Communities' mandate is to promote empowered, cohesive and sustainable communities through work programmes towards promoting the government's green agenda policy.
By: Ranetta La Fleur