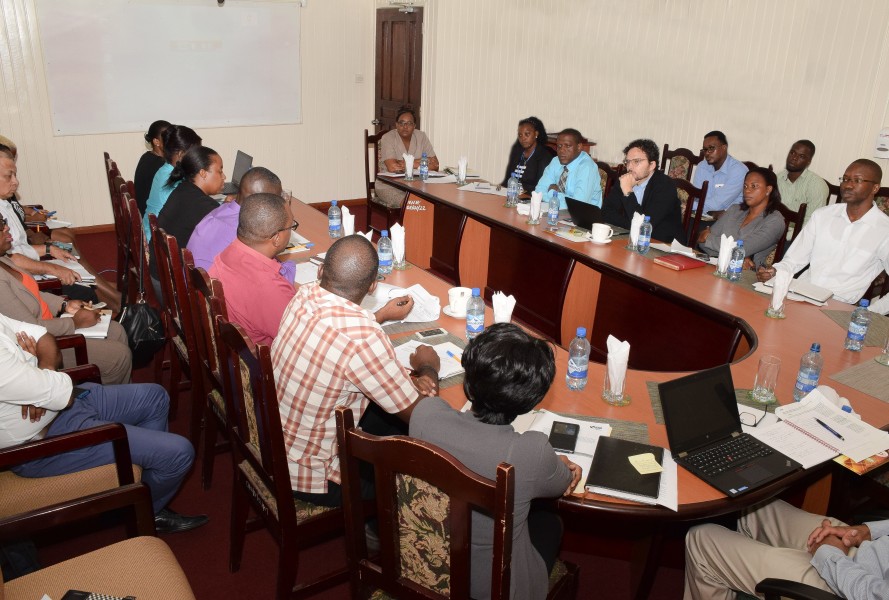 Ministry of Communities, Department of Housing, Georgetown Guyana, May 11, 2017 – Wednesday, May 10th 2017, The Central Housing and Planning Authority (CHPA), together with the Inter-American Development Bank (IDB), began a series of meetings to discuss the development of a National Housing Strategy.
Wednesday's discussion saw IDB's delegation, led by its Housing and Urban Development Specialist, Patricio Zambrano-Barragan, meeting with CH&PA's Chief Executive Officer, Lelon Saul, Chief Executive Officer of the Guyana Water Incorporated, Dr. Richard Van West-Charles, Permanent Secretary of the Ministry of Communities, Emile McGarrell and representatives from the Guyana Lands and Survey Commission, National Drainage and Irrigation Authority, Ministry of Education, Ministry of Public Security, Ministry of Indigenous Affairs, Environment Protection Agency, Guyana Power and Light and Mayor and City Council.
The housing strategy being developed will be built on the housing profile created by UN-Habitat in collaboration with the Central Housing and Planning Authority. The Guyana Housing Profile was completed in February 2017.
The National Housing Strategy will form the basis upon which the housing sector will move forward. The Strategy will address the expansion of housing supply, improving affordability and access to adequate housing.
In December 2016, the IDB, following a request from the Government of Guyana, approved US$ 517, 250 for "support for the Development of a National Housing Strategy."
Through IDB's Housing and Urban Development Division, the Central Housing and Planning Authority will receive support to develop a National Housing Strategy as part of the broader Sustainable Development Goals to make cities and human settlements inclusive, safe, resilient and sustainable.
Following meetings with key stakeholders in the Ministry of Communities, it was agreed that the project will address several critical areas: Improving institutional capacity of the CH&PA to design, manage and implement housing and Urban policy; Strengthen CH&PA's capacity to manage and analyse territorial information and to facilitate multi-sectoral knowledge-sharing on housing and urban development topics.