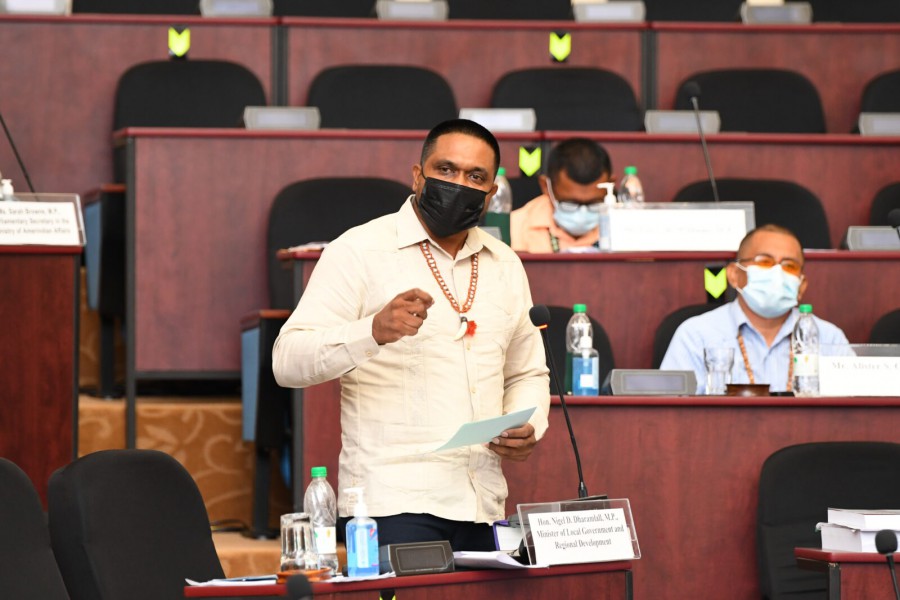 – with $53.25 billion budget
(DPI) Minister of Local Government and Regional Development Hon. Nigel Dharamlall says the rehabilitation of public infrastructure is among the priority areas on his Ministry's agenda.
He said $4.8 billion Of the $53.25 billion earmarked for the sector in the 2020 Budget, will be spent to rebuild roads, bridges, buildings, and other infrastructures throughout the regions.
"Lots of development and thousands of jobs will be created, and we are on course to deliver our promised of 50,000 jobs,"
Minister Dharamlall told the National Assembly on Thursday.
Plans are also in train to build a road between Monkey Mountain and Paramakatoi, Potaro-Siparuni (Region Eight) and to rehabilitate the Mahaicony District Hospital, Mabura Health Centre, and Upper Demerara District Hospital.
Upgrades and finishing works are also planned for the Chenapau and Mahdia Primary Schools and the Amelia's Ward and Bamia nursery schools. Additionally, a new well will be dug for Micobie Village and the road from Kara Kara to Wisburg redeemed.
"My Ministry will be filling the gap between the people and the Government and moving forward, I assure you, the people of this country, in our villages and communities, will get enhanced services, live better lives and will be prosperous long before the next elections in five years," the Minister said.