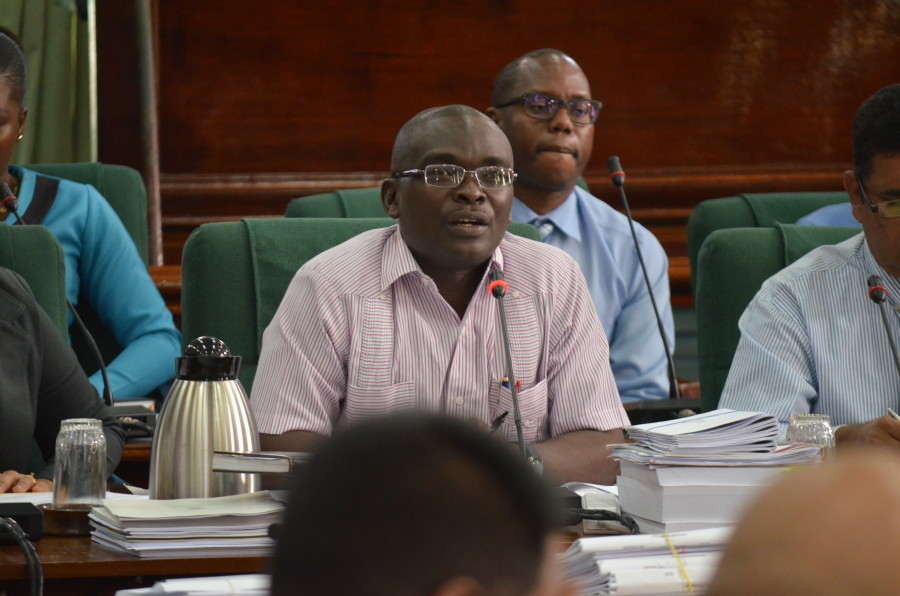 The Ministry of Communities is to get support from the Office of the Auditor General (AG) to help make the financial management procedures of local government councils more effective.
This was disclosed by Permanent Secretary (PS) in the Ministry of Communities, Emil McGarrel to the Public Account Committee (PAC), this morning.
McGarrel, supported by staff of the ministry and of the Georgetown Mayor and City Council, appeared before the PAC based on information revealed in the Auditor General's 2015 report, relating to the Ministry of Communities. Among issues addressed was the outstanding Financial Statements of the municipalities.
The Municipal and District Councils Act, Chapter 28:01 of the laws of Guyana, requires all accounts of the Municipal and District Councils to be made up yearly to the end of the financial year by the Treasurer of the council. These accounts are to be made up no later than four months after the end of the financial year to which they are related, for auditing by the Auditor General soon after.
According to the Municipal and District Councils Act, Chapter 28:01 of the laws of Guyana, Section 176, the responsibility of submitting Financial Statements for the councils lies solely with the Treasurer of the councils.
Despite this legal requirement, a number of councils are in violation. The Georgetown Mayor and City Council for instance has not submitted Financial Statement for 2006-2013 and 2015.
McGarrel explained that the failure of the council to submit these statements is a problem of poor financial management. He explained that this is a challenge that has several root causes including the financial standing of the councils to employ the necessary skills, needed for effective management.
"If you do an analysis of the officers holding position (of) Treasurer in most of the councils, it will let you know that you need to do more work to attract greater skills," McGarrel said. He noted that the issue is further exasperated by the fact that and the councils, not the ministry, has the responsibility for appointing these officers.
Notwithstanding this, the ministry has started discussions with the Auditor General's Office on the development of a strategy to empower the councils to improve their financial management capabilities, McGarrel said.
Resolving the financial management challenges of the council is also a core component of the ministry's plan for 2017 and will also be address through several workshops and seminars, McGarrel said.
By: Macaila Santos | GINA