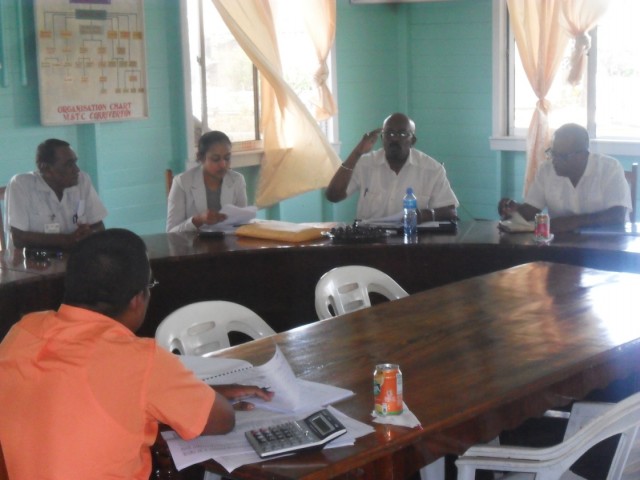 Georgetown, GINA, March 03, 2014
The 2014 Budget estimate, roadside vending and solid waste management were on the agenda when Minister of Local Government and Regional Development, Norman Whittaker along with a team of senior Officers of the Ministry held separate meetings with the respective councils of the three municipalities in the region; Rose Hall, Corriverton and New Amsterdam.
According to a press release from the Ministry, Managing Director of Advance Environment Solution Zaheer Osman, was also present at the meeting. The company has responsibility for developing, operating and maintaining the regional landfill sites.
During the meeting, the Minister stressed the need for the contractors and municipality workers to collaborate towards addressing the challenges to solid waste management in the region. It also stated that both parties agreed to implementation of several measures in this regard including the contractor making available to the municipalities and to residents a schedule for waste collection.
Also agreed on was an intensified solid waste education and public awareness programme that involves, not only the contractor and the municipalities, but also the Regional Democratic Council (RDC) and private sector of Region Six.
The release said that during the discussion Minister Whittaker also touched on the Solid Waste Management Bill, which is soon to come up in the National Assembly and which, when approved, would have impact for the better on the whole issue of solid waste disposal across the country.
On the issue of Councils' 2014 Estimates, the release stated that the Minister pointed to the fact that in all three municipalities, more than 70 percent of their Capital Works are budgeted to be funded from Government's subvention.  Minister Whittaker expressed his dissatisfaction with this and urged that the municipalities generate more of their own resources to provide more core services, inclusive of drainage, and road maintenance to their respective residents.
Minister Whittaker pointed out that the resources garnered mainly from rates and taxes and from market fees be utilised in this regard. To this end, the Minister identified the challenges of the high level of outstanding rates and taxes for residential and commercial properties; the under-utilisation of available market buildings and facilities, and the high incidence of roadside vending as a scourge that the municipalities must address in seeking to expand their resource base.
Minister Whittaker was not unsupportive of the council's view to increasing rates and taxes and having reclassification of property taxes.  Efforts ought to be intensified to have existing defaulters to honour their debts, otherwise, the pressure continues to reside at the feet and on the shoulders of the disciplined and honest ratepayers who have been paying, the release said Minister Whittaker pointed out.
Also discussed was the issue of illegal occupancy of Government reserves. To this end, the Minister is reported to have called on the Councils to work with Government to address these illegalities which continue to contribute to the problems of traffic congestion, dumping of garbage and destruction of the environment.