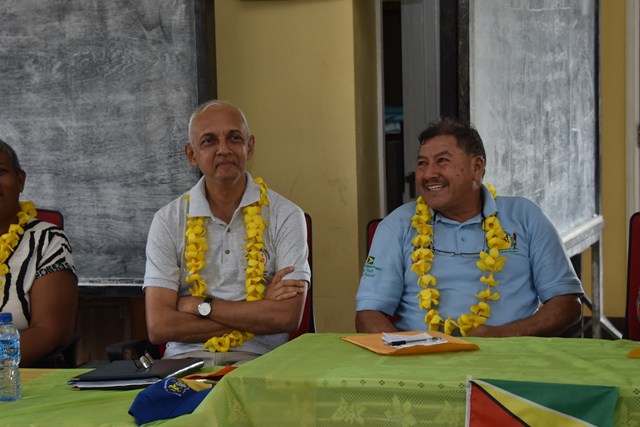 The Mahdia township will not impinge on the authority of indigenous village councils, Minister of Communities Ronald Bulkan assured.
The Minister made the reassurances on Saturday, May 12, during a community meeting in Micobe Village. It was attended by indigenous leaders and residents of Micobe, Campbelltown, Princeville and other indigenous communities within the environs of the proposed township of Mahdia, Region Eight.
Minister Bulkan, Minister of Indigenous Peoples' Affairs, Sydney Allicock, and members of the Guyana Elections Commission (GECOM) were part of a team to explain the boundaries of the Mahdia township and indigenous villages' roles within the township.
Minister Bulkan explained that indigenous villages will not lose any existing rights they enjoy under the Amerindian Act of 2006. Additionally, becoming a part of the township will increase the opportunity for villagers to play a greater role in the development of their communities he added.
"If you become part [of this township] then what you have earned or gained is the ability to have an organ separate and apart from your village council that can make representation on your behalf", Minister Bulkan further explained.
Residents had raised the concern of losing lands if they became a part of the Mahdia township with Minister Allicock during a recent outreach.
Micobe Toshao John Andre said he was reassured by the explanations, "The meeting was an excellent briefing. I had a long list of questions … most of them I get rid of because it was so clear, I really understood."
He will meet with his villagers before making any determination on becoming part of the township.
Campbelltown Deputy Toshao Marbell Thomas, said she is expecting "far more improvement" if her village is to become part of the township.
Mahdia is expected to become a town later this year. GECOM Commissioner, Charles Corbin, explained that the town has been divided into five constituencies inclusive of indigenous villages. The voting process for the municipality, that is mayor and councillors, was also explained to indigenous leaders.
By: Tiffny Rhodius