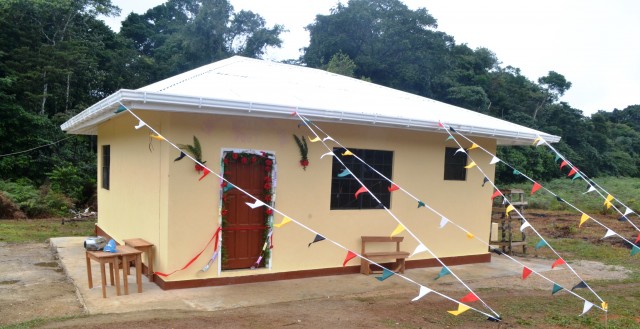 Georgetown, GINA, March 3, 2014
Government continues to invest in the development of hinterland communities, as seen in the recent commissioning of a health post in Maikwak, Region Eight. The facility that costs over $8M is critical to the provision of health care, in a safe and conducive environment, to the residents of the community.
The building was commissioned by Minister of Local Government and Regional Development Norman Whittaker whilst on a visit to the region. He was accompanied by the Regional Executive Officer (REO) Ronald Harsawack, and the Assistant REO Shameer Arjoon.
The structure was completed in January 2014, and boasts an examination room, a waiting area, a malaria department and washroom facility.
Minister Whittaker noted that the health post is just one of many similar projects that the PPPC Government has been realising around the country. "We put projects like these where not only the people request them, but where we see the need for these projects," he said.
To this end, he pointed out that the PPPC Government has been ensuring that every single Amerindian village has facilities to dispense not only health services, but education. "In every village, there is at least a primary school. In some villages-the bigger ones we have primary schools, in others, we have secondary schools. In some villages, we have health huts; in some, health centres, and in others we have hospitals…all of these things have been happening over the last 20 plus years under the PPPC," he noted.
Minister Whittaker said that this is as a result of the PPP government's determination to bring education and proper health care to people, all over the country, with a focus on Amerindians.
The old wooden health structure that served as a health post was infested with mites and bats, and leaking in rainy periods.
The construction of the facility was awarded by the Regional Procurement and Tender Administration Board to contractor Salim Yusuf for $8.5M.  The new building stands about 50 meters away from the old structure.
Harsawack pointed out that the health post is a perfect illustration that shows that as the coffers allow, Government over time is able to provide better services to its people.
"It teaches us a lesson that as our country grows, as we develop, as our economy can facilitate, we move towards bigger and better things… I am sure in another couple of years we will have something bigger and better for you," he told the residents.
The regional administration will look into fencing of the facility in the near future and to set up at a radio set that has already been delivered, AREO Arjoon said.