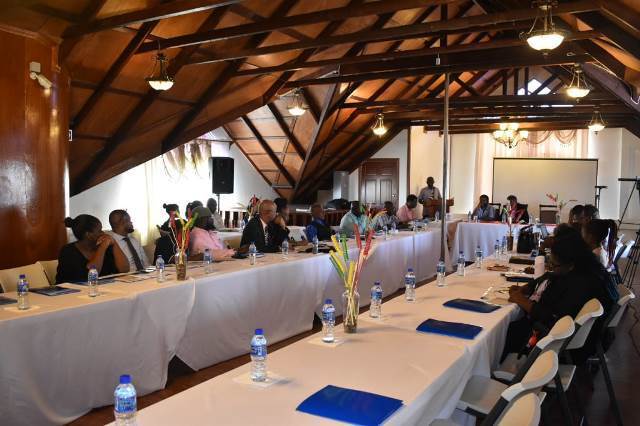 ─ in local governance and accountability
DPI, Guyana, Thursday, October 17, 2019
Councillors of the Mayor and City Council (M&CC), on Thursday, participated in a booster training to build their capacity in local governance and accountability.
Convened by the Ministry of Communities, the one-day meeting engaged councillors and administrators of the M&CC, on their roles and responsibilities, even as the city and country reposition themselves for a major transformation.
Permanent Secretary of the Ministry of Communities, Emil McGarrell said the training exercise falls within the ministry's mandate of building cohesive, empowered and sustainable communities.
"We recognise that building the capacity of our local organs and that of the city becomes critical if we are going to see the level of development described by His Excellency as having the good life. We believe that with knowledge and capacity built, Georgetown would be able to be a livable, lively, lovely city for both residents and visitors," the PS told the officials gathered.
Councillors were also called on to unite for the good of the council and the country as a whole. Deputy Mayor, Alfred Mentore made the passionate plea.
"As we move to realise this stated vision, we must commit to working tirelessly to bring significant development to all… the good life, the better life promised by His Excellency. So, if we are going to give 80%, be prepared to give 100% going forward."