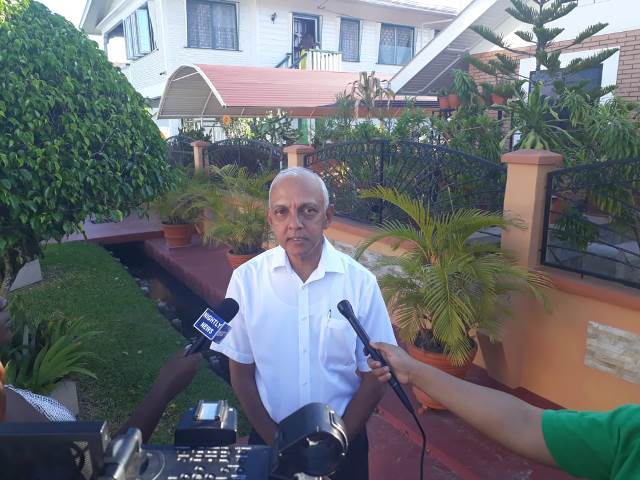 – voters say process smooth
DPI, Guyana Monday, November 12, 2018
Minister of Communities, Ronald Bulkan, said he is expecting voter turnout to be more than fifty per cent at this year's Local Government Elections (LGE).
Minister Bulkan cast his ballot this morning in Constituency Nine of the Eccles/Ramsburg Neighbourhood Democratic Council (NDC) along the East Bank of Demerara.
"All across our country, we are hearing people speaking of their constituencies. What this tells us is that people are beginning to have a greater understanding of the system of local government and their responsibilities the candidates … owe to their constituencies," Minister Bulkan pointed out to members of the media after casting his ballot at the Success Primary School.
The minister noted the return of LGE is historic since this is the second successive LGE as legally due under the APNU+AFC administration after more than 20 years of its absence.
Minister Bulkan said he is satisfied with the work and effort the Guyana Elections Commission (GECOM) and other stakeholders have put into hosting LGE 2018.
"We should be cognizant … that this system which has been ignored for so long that creating or generating the level of civic engagement and voter participation will take some time," the minister cautioned.
Minister Bulkan noted much work has been put into building capacity and strengthening institutions for LGE.
The minister described this morning's voting process as smooth and organised.
As early morning voters arrived at polling stations along the East Bank of Demerara, Indra was the first in line at the Eccles Primary School to cast her ballot. She travelled from the West Coast to cast her ballot.
PPP agent, Need Kumar, said he was pleased with the smooth voting process and said he felt good about the elections process. He voted at the Success Primary School.
At the Peter's Hall Primary, Burdetta Etwah said casting her ballot is important since it helps in the selection of strong community leaders.
At the Providence Primary, 81-year-old Thelma Chupidore was assisted by a family member to cast her ballot.
She said she is pleased with the return of LGE and described the voting process as easy.
Tiffny Rhodius.

Images: Jules Gibson.
Source: DPI