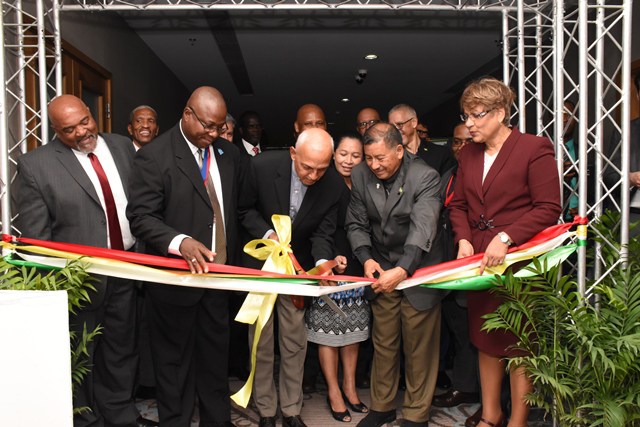 Minister of Communities, Ronald Bulkan is calling for stronger integration of Caribbean Water and Wastewater Association (CWWA) member states to better address water management in the region and the threat of climate change to populations that inhabit coastal areas and small island states.
At the opening of the 26th CWWA meeting on October 16, at the Marriot Hotel, Minister Bulkan reiterated that the problem must be tackled "frontally and collectively" since it is too large for individual responses.
He highlighted that the among the expected outcome of the five-day seminar is a white paper addressing overall governance in the water sector, integrating and emphasising access of vulnerability to climate change and elements of a strategic plan for water governance and climate resilience.
"Implicit in those is the acknowledgement that disasters are now occurring with greater frequency that makes building climate resilience in the water sector an urgent necessity and that stronger regional cooperation has to be forged."
The Minister pointed out that Guyana also recognises the need good water governance and effective infrastructure hence, its direction in the green state development strategy.
President of CWWA, Alphonsus Daniel, underscored the destruction of the water infrastructure caused by recent hurricanes in the Region and commended member states for assisting the affected countries.
"The responses by our members of the CWWA to reach out with engineering skills and assist them (Caribbean countries) with rapid assessments of the affected water infrastructure was tremendous," Daniel indicated.
Meanwhile, Chief Executive Officer, Guyana Water Incorporated, Dr. Richard Van-West Charles drew attention to the fact that the conference being convened on the heels of the recent devastation allowed for more decisive action and strategic direction on climate change and water security to be taken.
"As we grapple to respond to the effects to these hurricanes the question is, has there been the required focus over the last nine years and could these results which we witness today could have been mitigated. May I suggest that these issues remain a major concern and the critical agenda item for action by the high-level Ministerial forum of 2017," Dr. Van-West Charles emphasized.
Also present were Minister of Indigenous Peoples Affairs, Sydney Allicock, Minister with responsibility for Public Affairs, Dawn Hastings-Williams, Minister of Business, Dominic Gaskin, Minister of Telecommunications, Catherine Hughes and representatives and members of the CWWA.
The five-day 26th CWWA Annual Conference and Exhibition is being held, at the Marriot Hotel, under the theme "Promoting innovation and creativity in water, waste water and waste management."
By: Ranetta La Fleur | GINA