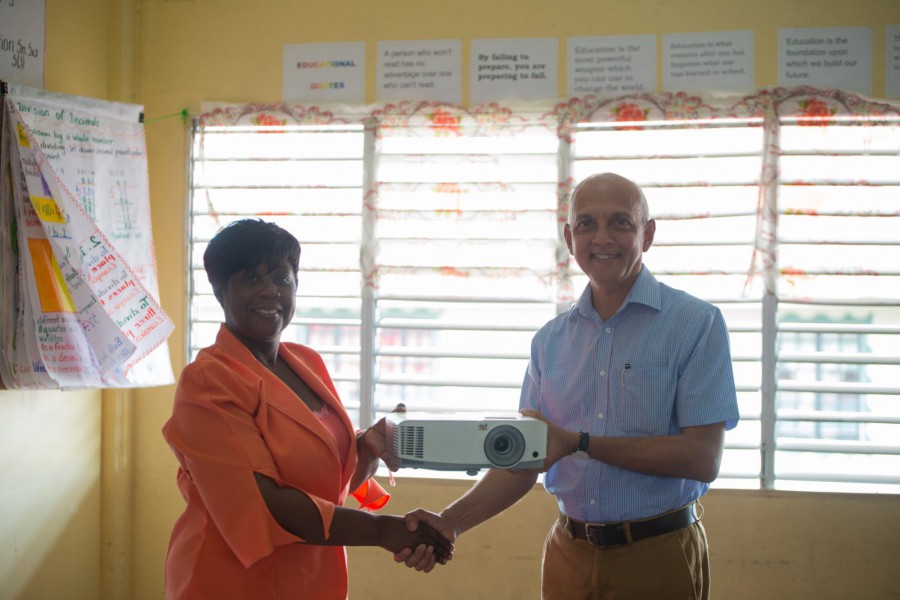 ─ Students will now benefit from a multimedia projector and sports gear.
─ Headteacher grateful for donation.
─ 46 waste disposal receptacles donated as part of ministry's 3Gs initiative.
DPI, Guyana, Thursday, February 14, 2019
Minister Bulkan today handed over several pieces of equipment to the Sophia Primary School on behalf of the Ministry of Communities. Speaking to the Department of Public Information (DPI), Minister said that education is one of the things this administration holds in high regards.
"This administration, our president, one of the things he feels most strongly about is education and there can be no better investment than investing in the education the young ones. We have to be able to afford them a proper standard of education," Minister Bulkan said.
The Minister also expressed pleasure being able to help the students of the school through the donated items.
Headteacher Audrey Sue said that the multimedia projector donated will aid in the delivery of content to the students who will now be exposed to a different and more interactive mode of instruction.  She gave heartfelt thanks to Minister Bulkan and his team for the donation and also expressed thanks on behalf of her students and teachers.
Among the gifts given to the school were waste disposal receptacles as part of the Ministry's 'Green Generation Guyana' (3Gs) programme, cricketing and football equipment and a multimedia projector.
The 3G's initiative is the Ministry of Communities' programme which was launched in 2016 to sensitise children on the basics of waste management, including waste separation, composting and recycling.
Britany Roberts
Images: Marceano Narine | DPI