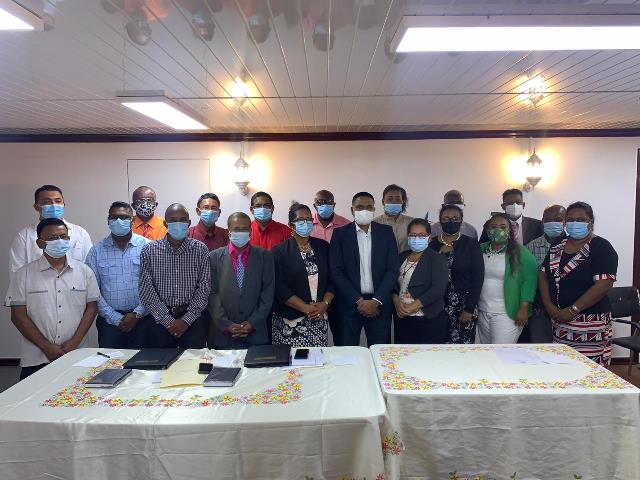 -first female Chair sworn in
The newly sworn-in Councillors of the Pomeroon-Supenaam (Region Two) Regional Democratic Council (RDC) have been urged to cultivate the habit of meeting the people and to serve to the best of their abilities.
The charge was delivered by Minister of Local Government and Regional Development, Hon. Nigel Dharamlall at the swearing-in ceremony, which was held today at the RDC office in Anna Regina.
Ms. Vilma DaSilva was sworn in as RDC Chairperson, becoming the first woman to hold the position in Region Two. An agribusiness owner by trade, the 58-year-old woman takes pride in being a patriot with strong roots in the Region.
Meanwhile, Minister Dharamlall said Councillors need to direct their energies towards service to the people.
"The oath that you took said that you will serve to the best of your abilities and I do hope that you will serve all the people of Region Two; do it to the best of the requirements and needs of the people," Minister Dharamlall said.
The Minister then assured the leaders that they would have the full support of the Central Government to fulfil their mandate.
He also advised the Councillors to practise good governance and to cultivate the habit of meeting the citizens.
"The elections were over since March 2nd. So, please work together… You must reach out to those who elected you. You must reach out to those that you serve … The most important role of a political leader is to listen to the people," Minister Dharamlall asserted.
The Minister also encouraged the Councillors to foster an atmosphere of solidarity in the region.
Importantly, the Minister said His Excellency Dr. Mohamed Irfaan Ali's vision for investment must be decentralised throughout all communities. To this end, he pointed out that some of the budget relief measures, particularly the reversal of value-added tax on agri-equipment were important to boost agricultural production in the Region.
Accordingly, the Ministry will provide an engineer to the RDC who will ensure programmes are executed in an a timely manner.
Seventeen persons were elected to the RDC; 12 seats are occupied by the PPP/C and five by the APNU/AFC.