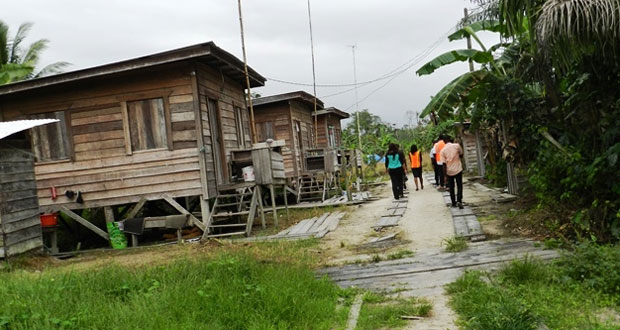 The Central Housing and Planning Authority (CH&PA) plans to tackle the country's squatting issues one community at a time.
Minister within the Ministry of Communities Valerie Adams-Patterson said efforts to bring an end to squatting will be advanced with a focus on regularising those areas that are not zero tolerance areas, and conducive to healthy living.
According to Patterson, the Squatter Regularization Department would be focusing on Sophia and East and West Ruimveldt. "We (the CH&PA) cannot deal with all of the (squatting) areas at one time, so the focus will be Sophia, East and West (Ruimveldt) and as we continue along the year, we are going to clean up all the communities," she said.
Noting that the Government is not insensitive to the needs of squatters, the minister said that the CH&PA is prepared to relocate those squatters, living in areas unsafe and unfit for housing, and relocate them to areas more suitable for housing development. "I do not believe that we should break people (houses) down and leave them on the road. What we are doing is that we have already identified locations, at least one so far… and we are looking at how best we can build very low cost houses and offer these as alternative housing to the squatters," the minister said. She however cautioned that the CH&PA will not condone the present situation
"If you do not take it, we have to move you. We have to restore order to the city. …If we do not deal with it, we are just as guilty (as the squatter)," the minister said.
Minister Patterson explained that the Authority is familiar with the fact that many of the squatters have applications in the system for years. She said the failure to be allocated a house lot does not give anyone the right to squat on vacant land.
According to Minister Adams-Patterson, the CH&PA has identified at least one area to relocate the squatters where they would look to build rent-to-own houses. As to the amount of squatters that will be relocated to the area, Minister Patterson said that the CH&PA will decide on this following further studies and a visit to the area by the planners, surveyors and designers.
Source GINA