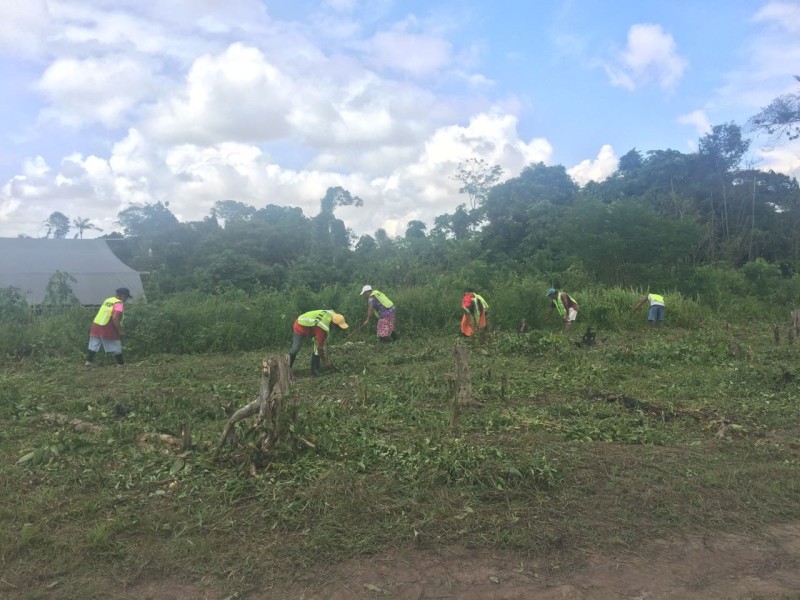 In an effort to empower local authorities to enhance and promote the development of their communities, over 900 employees of the Ministry's Community Infrastructure Improvement Project (CIIP) will now be directly employed by the municipalities and Neighbourhood Democratic Councils (NDCs).
Project Coordinator of CIIP, Karen Roopchand said that local democratic organs are now tasked with management of the initiative which became effective January 1, 2017.
The transfer of employees, who were hired under the Community Enhancement Initiative (CEI) component of the project, is in keeping with the Ministry's mandate to build cohesive, empowered and sustainable communities.
In 2017 a total of 960 Community Enhancement Workers (CEWs) were transferred to the Mabaruma Town Council, 59 Neighbourhood Democratic Councils, two Village Councils and one Community Development Councils (CDCs) across Regions One, Two, Three, Four, Five, Six and 10.
A similar transfer was done in 2016 when 406 field staff were transferred to the Anna Regina, Bartica, Lethem, Linden, Rose Hall, New Amsterdam and Corriverton municipalities.
Roopchand disclosed that during the transfer, no jobs were lost.
She noted that the devolution of management will contribute to the empowerment and building capacity within the local organs and communities.
"It will also give sustenance in strengthening good governance, facilitating infrastructural and human resource development in the local organs," Roopchand said.
The Community Enhancement Initiative is aimed at improving aesthetics in the communities with the overarching objective to impact the safety, health and wellbeing of the environment.
The CEI is also for the purpose of assisting NDCs to provide services to the communities in an effort to encourage citizens to pay their rates and taxes in order to facilitate further infrastructural and other development works in the communities.
For the first time, since the conception of the project, funds have been allocated to allow for an increase in salary for the Community Enhancement Workers.
Additionally, CIIP have signed a number of contracts for 2017 including for the construction of a community centre ground and pavilion at Barakara, Region Six.
This project is expected to benefit approximately 400 residents of Barakara including the nursery and primary schools and the health centre.
The scope of works includes the clearing, grading and shaping of playground and construction of a timber fence in addition to the construction of a multi-purpose timber enclosed building with sanitary facilities and bleachers at a total cost of $37M.
A contract was also signed for the rehabilitation of Mabaruma Town Hall at a cost of $27M.
The scope of works includes the construction of a town hall, conference room, a water trestle, an external sanitary block, cashier booth, office partitions, ceiling to ground floor and modification to stairs.
About 1,000 residents are expected to benefit.
Vendors of Kumaka, Region One are also expected to benefit from the construction of a reinforced concrete market tarmac and stalls there.
This will benefit not only Kumaka but outlining villages such as Hosororo and Wauna                 which services approximately 1500 residents.