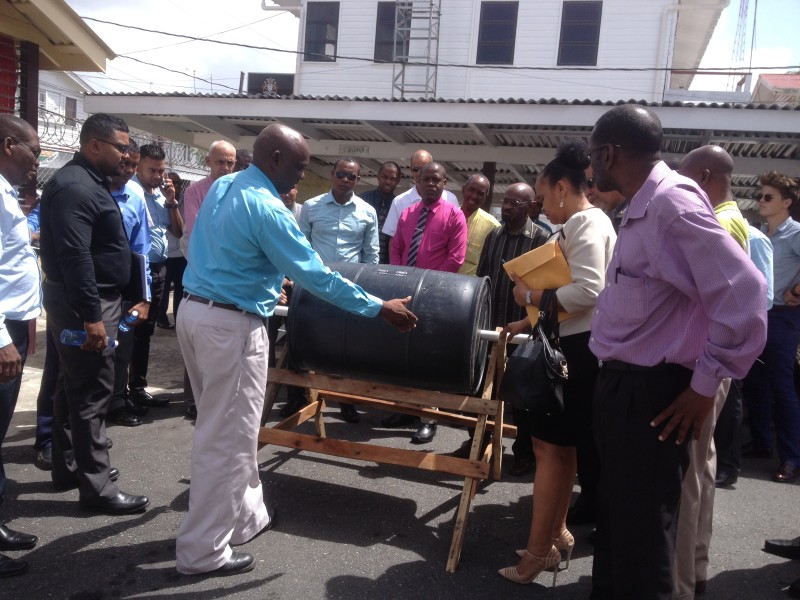 The Sanitation Management Unit (SMU) of the Ministry of Communities on Monday unveiled a composting rotisserie prototype intended to be used at the ministry's buildings, municipal, regional and neighbourhood councils, schools and interested communities.
The compost bin is made from a plastic barrel, mounted on stilts and on an axel, that allows for rotation.
The demonstration, on how to operate the rotisserie after it would have been filled with vegetable and garden waste, was done by Technical Ministerial Advisor on Sanitation, Gordon Gilkes.
Present at the unveiling was Minister of Communities, Ronald Bulkan, Permanent Secretary, Emil McGarrell, GWI's Managing Director, Dr Richard VanWest-Charles, Chief Executive Officer (CEO) of the Central Housing and Planning Authority (CHPA) Lelon Saul, regional executive officers of the 10 regional councils and other senior staff.
The prototype is expected to be replicated in other ministry compounds and state agencies in an effort to promote sanitation management specifically composting and the eventual reduction of organic waste that ends up in the landfill site.
The ministry staff is expected to place food scraps and leftovers into a separate garbage receptacle that will be used as material to create the compost.
The food service operators and canteen within the vicinity of the ministry will also be allowed to use the compost to dispose of their food waste.
Among the organic material that can be placed in the compost are fruit peels such as bananas and orange skins, vegetable peels such as carrot ends, potato and cucumber peels and boulanger skins.
The display was done after the second senior staff meeting was held to assess the progress of the ministry's work programme and to introduce several new appointees including Mr Saul, Deputy Permanent Secretary, Jaigobin Jaisingh and Procurement Manager Michael Blackman.
During the engagement, Minister Bulkan said the benefits and usefulness of the senior staff meetings are undeniable.
"Apart from its intended purpose, it allows each departmental head an opportunity to provide an overview of the work programme and gives the others an idea of what is happening in the various departments," the minister said.
He noted that the weekly meetings are held with Ministers with responsibility for Housing and Water, Valarie Patterson and Dawn Hastings-Williams respectively, to update each other on developments within their varying sector portfolios.
Regional Executive Officers were also asked to submit a report capturing the period July 2015 to December 2016.
Minister Bulkan stated that the overall intention of the meeting is to reduce the physical distances between related department to ensure team effort and to strategize in order to develop synchrony and cover overlaps that may exist in the system.
"There can be no question as to its validity and productiveness in ensuring earned value and results-based management," Minister Bulkan added.
Updates were provided by all REOs, the CHPA management team, GWI's team, the Sanitation Unit, the Community Development Council (CDC) and the Community Infrastructural Improvement Programme (CIIP).