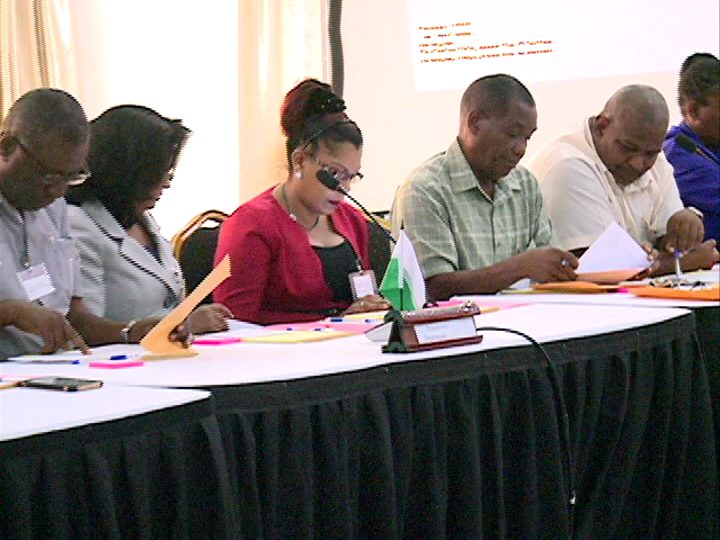 The Ministry of Communities' Action Roundtable for Regional Development 2018, today, launched a two-day workshop, in an effort to address accountability and transparency in financial management.
The discourse for regional officials is themed, "Improving Regional Financial Management for Sustainable Development: Our Strong Regions".
This workshop aims to establish and implement standard operating procedures for financial management, and the improvement of effectiveness and efficiency so as to reduce audit queries at the regional level. This includes the building of a stronger working relationship with and between local organs.
Minister of Communities Ronald Bulkan said that the workshop also represents the ministry's new role of providing guidance and building regional officials' capacity to effectively manage and develop their respective regions.
"These goals (aims of the workshop) are not optional and are in keeping with the overarching philosophy and determination of the administration to eliminate corruption which is an impediment of development and to ensure accountable governance at every level of the public administration for absolute clarity", the minister informed.
He stated the ministry's intention to standardise a system for greater accountability and transparency, "in a quest to realising strong regions and cultivating a stronger Guyana".
Stronger regions, the Minister said, will enable residents, regardless where they live, to have equal access to quality public services and an improved quality of life.
According to the minister, since 2015, allocations made to the regional administrations have steadily increased and currently stands at approximately 13.7 percent of the total National Budget. It is envisioned that regional government will generate their own revenue through structured sharing of royalties from natural resources, taxes among others.
"We want to see a system that ensures the proper usage and accountability of every dollar of public money spent. We want to see value for money in hinterland regions not only implementation of programmes but fundamental in the manner it is done", Minister Bulkan emphasised.
By Neola Damon | DPI