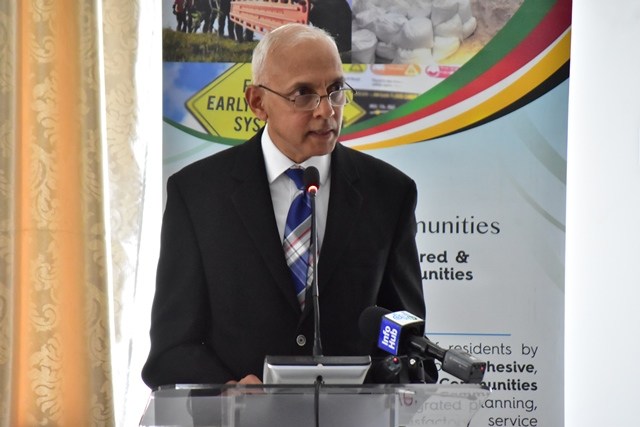 Municipal leaders zero in on improving financial management
Apr 26, 2018 Government, Ministry of Communities, News
DPI, GUYANA, Thursday, April 26, 2018
Leaders of Guyana's nine municipalities met at a Ministry of Communities forum to improve financial management systems in the townships.
Minister of Communities Ronald Bulkan said the forum is part of his ministry's efforts to reform the local government system.
"Strengthening the revenue base and financial sustainability of councils is a key pillar of the ministry's three-pronged approach," Minister Bulkan said at the opening of the discussion held at Tower Suites today.
This is coupled with the Ministry's commitment to the democratic renewal and institutional strengthening, and capacity building to rehabilitate the system of local government.
The theme for the roundtable is "Improving Municipal Financial Management Systems for Sustainable Development of Capital Towns".
The Local Government Commission is empowered with prescribing how financial records are to be kept across the country's municipalities. Commission Chairman, Mortimer Mingo, said this is important for regulating the local government system.
"It is by way of regulations that we could ensure that we have uniformity and we could have stricter accountability as it relates to the finances of the various local democratic organs," Mingo noted.
This year's roundtable is a collaboration between the Ministry of Communities and the Guyana Association of Municipalities. President of GAM, Carwyn Holland commended the Ministry for taking the initiative to facilitate the discussion.
The two-day meeting will see Mayors, Town Clerks, Municipal Treasurers and Finance Committee Chairpersons being instructed on the importance of audit, municipal procurement, financial governance among other measures to improve their work.