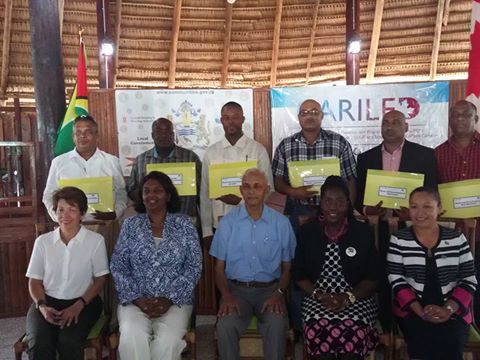 Umana Yana-The Ministry of Communities on Wednesday launched a series of workshop aimed at improving the leadership capacity of elected officials at the level of local government.
The launch coincided with the signing of a Memorandum of Understanding (MOU) between the Caribbean Local Economic Development Project (CARILED), four municipalities and two Neighbourhood Democratic Councils (NDCs).
Signatories to the MOUs were Mayors of Linden-Carwyn Holland, New Amsterdam's Kirt Wynter, Rose Hall's Vijay Ramoo and Corriverton's Ganesh Gangadin and Project Director of CARILED, Marion Villanueva.
The NDCs of Mocha Arcadia and Soesdyke, East Bank Demerara were represented by Rudolph Adams and Dinesh Singh.
During the feature address, Minister of Communities, Ronald Bulkan said the training is another step in the journey of rebuilding the collapsed and fractured administrative system of the local democratic organs (LDOs).
Bulk
an reiterated that central government is committed to the process of shoring up local governance and understands that the country is too large to be managed from the centre.
"Prior to the holding of Local Government Elections (LGEs) the local democratic organs were treated as step-children to be seen and not heard. There was little respect for autonomy and as a consequence the LDOs could not discharge their functions," the minister said.
According to Bulkan, the two-decade old gap in the election cycle severely damaged the councils' capacity to provide leadership and the system became dysfunctional.
This, he said, was a telling illustration and reminder of the previous administration's lack of understanding of local democracy and ironic since the constitution provides for an elaborate system of governance.
"The Ministry of Communities is tasked with rebuilding the damaged system of local governance by building capacity, providing support and training. It's an ongoing process that will take some time."
The Minister noted that although the councils are made up of new members, they are tasked with crafting policies, plans and programmes specific to their area.
However, there must be a new philosophical outlook as to the roles and functions the council is expected to perform.
Charge D' Affaires of the Canadian High Commission, Sharmini Poulin described the collaboration as a flagship project designed to engage municipalities across the Caribbean region.
Poulin said it fits into Canada's regional development programme of fostering a prosperous and secure region and strengthening the local government systems in Guyana.
She pointed to the implementation of good governance practices, which cannot be overstated and noted the importance of critical areas for sustainable economic growth.
Poulin mentioned that best practices and lessons learnt can work towards enhancing skills and can have a positive impact at the national level.
CARILED is a six-year programme aimed at developing and testing models of Local Economic Development in seven countries of the Caribbean.