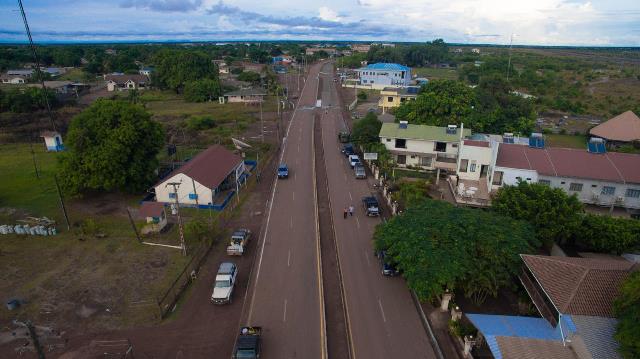 The four capital towns established by His Excellency President David Granger in the hinterland regions are moving steadfastly towards development, Minister of Communities, Hon Ronald Bulkan said on Thursday.
Following the restoration of local democracy through the long overdue Local Government Elections (LGE) in 2016, President Granger named Bartica, Lethem and Mabaruma and Mahdia as new towns. Mahdia celebrated its first anniversary last month.
Minister Bulkan, who was being interviewed on the DPI's "One on One" programme, said the transformation has been overwhelming.
"Bartica, for example, boasts one of the most picturesque beach size promenades; the Golden Beach boulevard. There has been the development of a green park, rehabilitation of the municipal market and the installation of almost 800 street lighting in Bartica," he said on Thursday.
The transformation in that town, he said, is nothing short of spectacular. "It shows what can be achieved in a few short years when persons are given the opportunity to lead in their developmental process."
The progress made in the other capital towns is no less impressive. Mabaruma, Minister Bulkan noted, now boasts concrete roads from the airstrip to the Kumaka waterfront. A green park was also established in the township along with several other community initiatives.
With support from the central government, the level of physical enhancement in the town of Mahdia was also transformed. It now boasts concrete roads and there is a greater level of pride in the community.
The same has been said of the township of Lethem.
"We see this as growing from strength to strength and certainly we will not relax on our efforts. Come March next year, we intend to deepen this process in our second term."
Minister Bulkan said central government through his ministry has invested heavily in capacity building and institutional strengthening. The investment in the Local Democratic Organs has deepened local empowerment with the creation of nine new NDC's and four capital towns in the hinterland regions.
For the first time, the government has also introduced the payment of stipends to the leadership of councils. Notably, Mayors on the coast are receiving a monthly stipend of $75,000 while those in the hinterland are paid $110,000. Their deputies receive $60,000 and $85,000 respectively.
This is in addition to what was formally paid to the officers by the council itself.