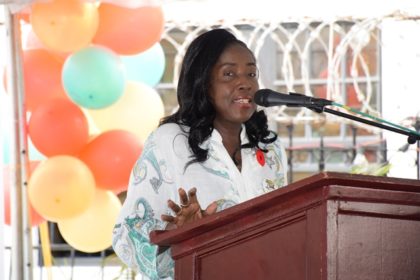 The Central Housing and Planning Authority (CH&PA) today launched its Jubilee Year Home Improvement subsidy distribution at the CH&PA Head Office on Brickdam which saw majority applications from Region Three qualifying for the subsidy.
Minister within the Ministry of Communities, Valerie Adams-Patterson explained that the budget for the subsidies was reduced from $15Mto $12,950.000 due to the number of applicants deemed eligible, however all eligible applicants received subsidies.
The project targeted 300 persons living in Housing Schemes and Regularized Squatter settlements developed by CH&PA in nine of the ten Administrative Regions excluding Region Eight, due to the non-availability of house lots in that Region, However only  259 persons were deemed  eligible for subsidies.
"Originally we planned just to give 45 subsidies to Region Three but 109 qualified and so we could not give you (the applicants) the subsidy this afternoon and you are one of the reasons why we're not going ahead with the lottery but everyone is qualified", Adams- Patterson explained.
Patterson further explained that the subsidy will be used by the families to purchase building materials to effect repairs to their homes.
The affordability and adequate housing is a part of government's effort to not only provide adequate housing but to make it affordable towards creating communities "with necessities for wholesome and dignified living for citizens in need" as outlined by President Granger in his address at the opening of the eleventh Parliament.
Meanwhile, Senior Community Development Officer, CH&PA Donell Bess-Bascom explained that the vouchers for hardware supplies to effect repairs to their homes will be redeemable at pre-approved suppliers from December 1to January 31, 2017.