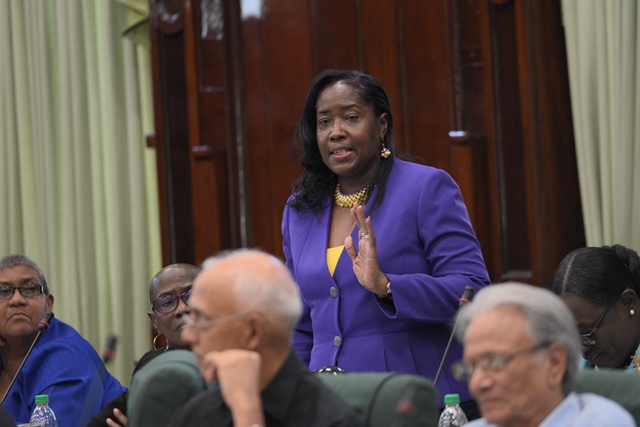 – More than 1,000 applicants Transports/Certificates of Title processed
– More than 100 hinterland household benefit from subsidised housing
– 40 units are under construction in Region Nine
– Online payments to become a reality
DPI, Guyana, Tuesday, December 4, 2018
During the year 2018 the Central Housing and Planning Authority (CH&PA) has processed some 788 housing applications. This represents 98.5 per cent of the planned target for 2018.
Minister within the Ministry of Communities, Valerie Patterson-Yearwood told the National Assembly during the 2019 budget debates that as of October 31, 1,110 applicants had their Transports/Certificates of Title processed and 2,009 applicants actually received their Transports and/or Certificates of Title. These and the many other initiatives executed by the CH&PA are part of continued efforts to provide citizens with adequate, and affordable housing, the Minister affirmed.
"The government continued to move forward with its efforts to provide adequate, affordable housing for the Guyanese people, by focusing on building complete housing units…For as long as one family lacks adequate housing, we will not rest.  Guided by the measures outlined in Budget 2019, we are on our way to eradicating substandard housing, the minister explained."
During 2018, a total of 202 units were completed and 52 are in progress and are projected to be completed by mid-December. The units were completed in Perseverance, Experiment, Onderneeming and Amelia's Ward. This initiative has brought relief and improvements to the lives of 3,050 citizens.
Meanwhile, under the Sustainable Housing for the Hinterland, funded by the Inter-American Development Bank (IDB), 46 families in Barima-Waini (Region One) and 62 families from Upper Takutu-Upper Essequibo (Region Nine) benefited from the Subsidised Housing component. Another 40 units are under construction in Region Nine. Minister Patterson- Yearwood said other hinterland regions will similarly benefit.
"Over the years hinterland housing was only focused on Regions One and Nine. However, in 2018 the government through CH&PA has decided to implement a similar programme at Kako, Kamarang/Warawatta, Waramadong and Quebenang & a model house at Jawalla in Region Seven."
Moving forward CH&PA has engaged the services of an expert to design a more efficient online application platform. Notwithstanding this, the agency is currently making maximum use of technology in support of service delivery. It is moving to facilitate Skype interviews and is seeking to implement an online payment system.
Ranetta La Fleur.
Image: Jameel Mohamed.
Soure: DPI