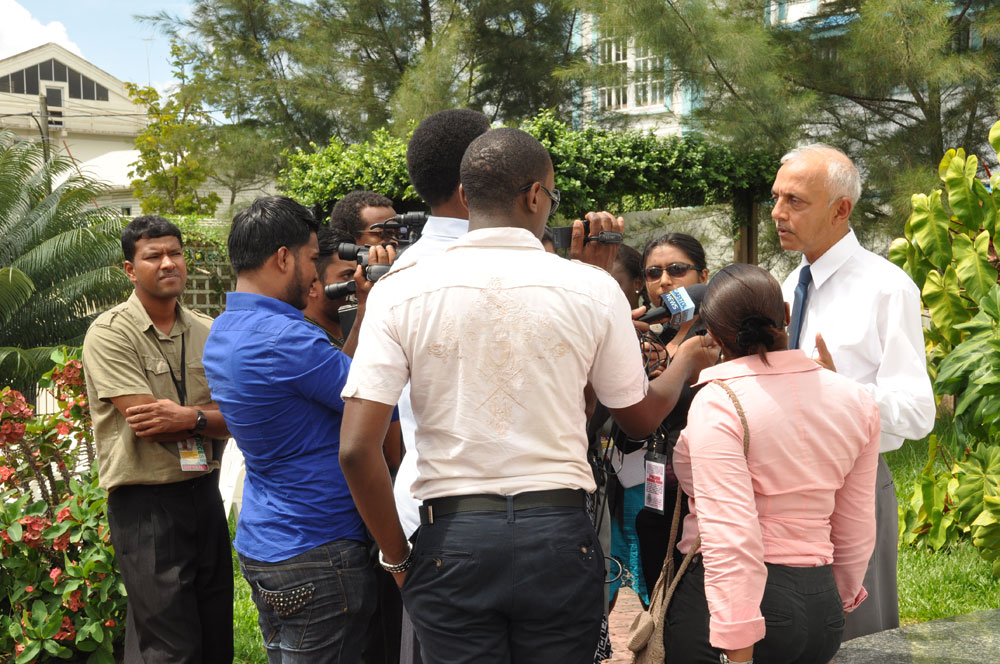 Parliament Square, the beautiful garden located at the corner of High Street and Brickdam, was officially declared open to the general public by Minister of Communities, Ronald Bulkan to coincide with the opening of Guyana's 11th Parliament on Wednesday.
At the simple opening, tents and chairs were made available for the use of the public and large television monitors were set up so that they would view the ceremonial opening of the 11th Parliament.
Overwhelmed with excitement, Guyanese turned out in their numbers to finally set foot on the lawns of the lovely little park.
It will now be available for use by the public on a regular basis and will be used as an assembly ground when there are sittings of the National Assembly.
The park initiative was initially conceptualised and realised by the Central Housing and Planning Authority of the Housing Ministry; however, Bulkan said he will be seeking Cabinet's approval to have its responsibility handed over to the Georgetown Municipality.
The Minister noted that Parliament will be representing the citizens of the country and therefore, the citizens should be allowed within adequate proximity of the proceedings.
"Our Members of Parliament (MPs) are sent there by the people, and they are sent there to represent the interest of the people, so it was a sad and unfortunate reflection that in the 10th Parliament, the area around Parliament Building was actually cordoned off and a sort of sanitary environment was created during Sittings of the National Assembly.
It was anomalous and an anathema, given the fact that the Members of Parliament who are there conducting the people's business, that the people were actually kept away from proximity of Parliament Building," Bulkan said.
He noted that with the opening of this park, Guyanese can now take pride and ownership of the activities that are being conducted during the National Assembly.
"In fact, our Constitution says that sovereignty belongs to the people, who exercise it via the elected representatives, and the democratic organs created by and under the Constitution and, of course, Parliament is the supreme organ of democratic power, so we do not believe that the public should be kept away during sittings of the National Assembly," he said.
The park project reportedly cost some $37 million and was aimed at enhancing downtown Georgetown.