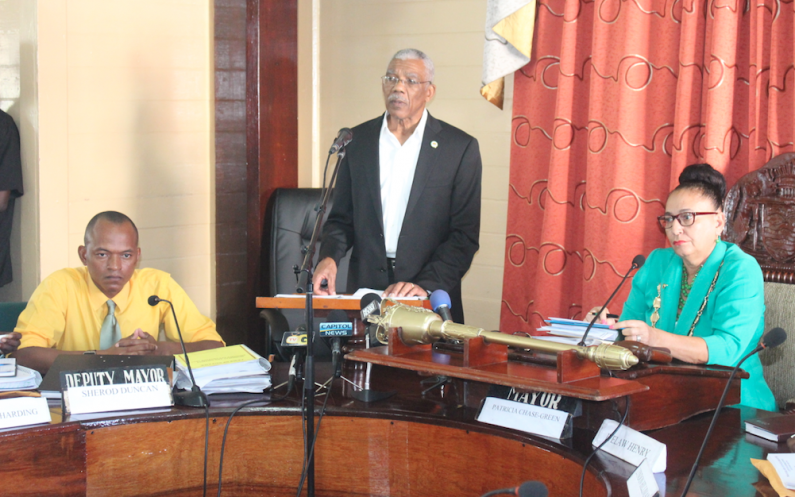 President David Granger made his inaugural visit to the City Hall on Monday pledging government's dedication to autonomy, urging the council to exploit each opportunity for progress and warning that reelection will solely be based on performance rather than politics.
The visit by the Head of State to the Georgetown municipality is the first by any sitting president in just over two decades.
City Mayor, Patricia Chase-Green said the President's visit comes at a time when the city is in transition of becoming a cleaner, greener place.
She pointed out that the council is aware of the many challenges and obstacles in its path but promised that they will continue to strive to achieve the objectives in the interest of all citizens.
Chase-Green lauded President Granger for what she called his, "unflinching commitment towards a collective approach" in carrying out the mandate of the City Council.
"Having held local government elections in May of this year, the municipality has moved on to sharing a vision for establishing a capital where inhabitants can enjoy the benefits and access to its services," Chase-Green said.
During his address, Granger noted that since the council represents over 240,000 citizens, their opinions and views must therefore be reflective, not of families and self, but of the constituencies which they represent.
"City Hall now has a duty to ensure citizens are provided for by engaging them, incorporating their opinions and being their voices. They rely on you to relay their concerns, answer their questions and propose solutions," the President said.
He urged the council to remain committed to the oath of office while applauding their efforts in leading the charge in the transformation of the city.
"Keep it up…It makes a difference. It's not superficial, it's not a waste of time but it's essential."
President Granger assured the city of his full cooperation to the efforts of the council stating that regional, municipal and central government must work collaboratively if the citizens are to derive benefits for a better life.
"There is going to be no declaration of war between central government and the municipality. We're always prepared to meet the council, listen to their grievances so that citizens are sure their interest is at heart and the nation is assured that the national capital is in good hands," the Head of State said.
He encouraged the councilors to capitalize on the shift in the posture of governance that has paved the way for local government elections after almost 23 years.
"Elections must be held when it is due," he said. "No more Interim Management Committees."
Granger related that Georgetown, which was once renowned for its monuments, historic sites and elegant examples of Georgian architecture, has sadly become unsafe, unsanitary and unsightly.
"It has degenerated into a national embarrassment. The drainage system has been compromised with flooding in some parts only after half hour of rainfall. Reserves in several places have been unlawfully misappropriated. Congested streets with the increase in vehicular traffic, zoning laws are largely ignored, squatting along the canals and river embankments, illegal vending," Granger lamented.
He detailed that solid waste management has become a very costly and dangerous challenge for the city.
However, the President promised that the city will not suffer such neglect and mistreatment under his watch. He said too that with the installation of a vibrant new council and assistance from international partners; government is intent on ensuring that Georgetown is restored to its former image as the Caribbean's most picturesque and attractive destination.
He boasted that the illustrious Stabroek square is now a scenic showpiece worthy of postcard prestige with D'Urban Square and Merriman's Mall providing adequate recreational facilities for residents.
Although the city boundaries have extended eastward to include Liliendaal, Sophia, Patttenson and Turkeyen and southward to Agricola, the revenue base remains the same.
Granger suggested that the council begin considering the establishment of a National Planning and Capital Commission tasks with reviewing numerous business plans and proposals that might still be relevant to urban development and the modernization of the municipality.
He advised them to reconsider the prospects of zoning, bring an end to the chaos on minibus parks and seek out noisy nightclubs in close proximity to hospitals, courts, home for seniors and other quiet zones and residential areas.
Granger said he would be delighted at the prospects of extended markets and arcades to accommodate every vendor and provide protection from the elements while maintaining access to their customers.
He encouraged city council to reexamine parking lots, bus terminals, pedestrian crossings and footpaths and walkways so that citizens do not have to jostle their way through piles of sand, building waste, dray carts, minibuses and other encumbrances.
The President reminded the council of its role in averting disasters, vector-borne illnesses such as dengue fever, filaria and chikungunya and suggested a plant nursery for the city where trees can be restored and replaced.
According to him, the council must brainstorm methods of sustainable energy generation, cheaper lighting, recycling of waste, and the prohibition of non-biodegradable materials.
"Investors must see Guyana as a priority destination for conducting business and commercial activity; banks must be brisk in lending and encouraging savings…A prosperous Georgetown will create jobs, profits for businesses and stimulate development in other areas," the President added.