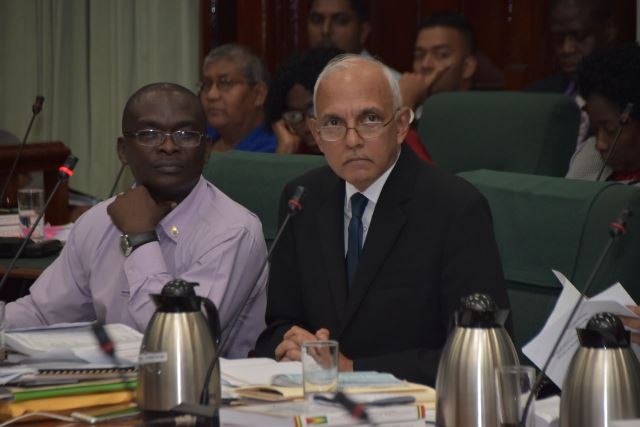 The National Assembly has approved 2.37B for Upper Takutu/ Upper Essequibo, Region Nine for the new year; $234.2M for regional administration and finance; $329.4M for public infrastructure; $1.16M for educational delivery; $563.6M for health services; and $83.8M for agriculture.
During the consideration of the region's 2018 spending, questions were raised by the Opposition in relation to stipends for the Chairman and Vice Chairman of Aranaputa. Member of Parliament Gail Teixeira opined that Aranaputa was declared to be a Neighbourhood Democratic Council (NDC), explaining "that they are not village council representatives", hence they ought not to get an allowance. However, Minister of Communities Ronald Bulkan explained that the Aranaputa representatives are entitled to an allowance.
Called upon, Minister Bulkan was also asked to explain a revised allocation of approximately $5M made to 'Expenses Specific to the Agency' over the initial sum allocated. Some $32.4M was budgeted for 2017 however $37.4M was spent on the line item. Minister Bulkan explained that the additional funds were used in response to response to flooding experienced in the region, earlier this year. Further, he explained that the additional monies spent, was submitted to the House in a supplementary financial paper, and subsequently approved.
Projects to be undertaken in Region Eight next year include: the construction of Regional Administration Annex and living quarters at Lethem; the rehabilitation of living quarters at St. Ignatius; the cultivation and production of ginger at Moco Moco and sweet cassava at Wowetta; the construction of shade houses at Aranaputa, Moco Moco, Shulinab and Tiger Pond and the establishment of Apiary (bee) unit at St. Ignatius.
A bridge will be rehabilitated at Rupunau and others constructed at Awarewaunau, Achimerawau and Marabunta Creeks; roads upgraded at Aranaputa and St. Ignatius and sections of main access at Culvert City, Kaicumbay and Parishara. and culverts constructed at Katoonarib, Kabanawau/Aishalton, Shulinab, Mountain Point and Achiwuib.
There will be the upgrading of the electrical system, including procurement of a generator, at the  Annai Secondary School complex; the completion of nursery schools at Tabatinga, Yurong Paru and Baishaidrum, the Paipang Primary School and living quarters at Sand Creek.
Also covered is the construction of the Parikwarewanau Nursery School and extension of Katoka and Nappi primary schools; the construction of living quarters at St. Ignatius and the construction of sanitary blocks at primary and secondary schools at Annai, Parikwaranau, Nappi and Aranaputa.
Projects in the area of healthcare delivery include the extension of the Lethem nurses' hostel; the construction of maternity waiting home at Annai and the extension of health posts at Shulinab and Maruranau
With an approved $15M, the Upper Takutu/ Upper Essequibo regional body will seek also to acquire an ambulance that will provide for emergency transportation in the savannahs.
By: Zanneel Williams